2023
The 2023 Art Exhibition

Saturday 15th April to Sunday 23rd April
Spring is just around the corner which means for nine days every April the Orangery is filled with the wonderful works of art being displayed in The Friends of Holland Park Art Exhibition. I am always amazed and delighted with the quality and variety of the work and I am excited to see what the artists have produced this year.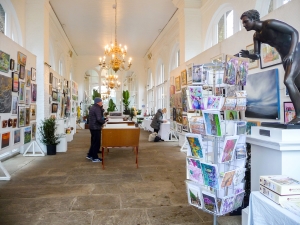 This year's Feature Artist is Pauline Rafal, who was one of last year's prize winners. Pauline develops pen and ink drawings into linocuts and artists books inspired by poetry and music, as well as themes based around memories, daydreaming and the experience of change. I have always admired the artworks entered by Pauline and am really looking forward to giving everyone a more in-depth look at her work.
Could all artists please remember to have their completed forms, showing details of all their exhibits, to me by Friday 17th March. To do this, they must already be a member and have registered to exhibit (see form enclosed with the newsletter). If you have been thinking about entering, do it! There is still time, and we would love for you to join us.
See you in the Orangery.
Gordon French
ART EXHIBITION 2023 TIMETABLE
Friday, 17 March Final date for artist exhibit details forms to be received to allow catalogue listing
Friday, 14 April Artists deliver artworks to the Orangery, Holland Park, 8.30-11am
All artists will be required to sign the catalogue to certify that all details are correct
Friday, 14 April Hanging and judging, 11am – 6pm
Saturday,15 April to Sunday, 23 April Exhibition opens to the public over 9 days.
ENTRY TO VISIT EXHIBITION FREE OF CHARGE. 10.30am-6pm
Sunday, 23 April Artist and buyers collect works, 6.15 – 7pm
[February 2023]