Payments via the FHP website
You are now able to make payments to The Friends of Holland Park directly from this website. Payments may be made for new membership, renewing membership, event tickets, art exhibition entries and merchandise.
Payment is made through PayPal, but you are not required to have a PayPal account; you can make payment from your debit or credit card.
It is no longer possible to download an order form from this website and pay by cheque. We apologise if this is an inconvenience for you, but it makes good sense for The Friends administratively. Paid-up members will still receive an order form with their quarterly newsletters.
If you have any problems, please contact Rhoddy Wood on 020 7602 0304 or Rhoddy.wood@virgin.net
[January 2018]
New! Jute shopper
The perfect size to carry a couple of books, sunglasses, water bottle and guide to Holland Park. Or your packed lunch.
This smart 300mm x 300mm x 160mm jute shopper is printed with an autumn tree in the wind and The Friends' logo. Buy one
for yourself and why not give one to a friend.
Price £11.50 including p&p.
Order online

here

.
[Winter 2021]
Notable Trees of Holland Park
Third Edition 2021
Many members will have enjoyed the guide to the Notable Trees of Holland Park we first printed in 2007. When in 2016 that was out of print and out of date, we re-issued it , increasing the number of trees from 50 to 65. Now in 2021, we have re-issued it again, keeping the same number, but replacing those that have died. This happens at an alarming rate; one tree even going as we worked on the new edition. Some of these have been killed by honey fungus which is always present in the park, but only strikes fatally when trees are stressed. The Friends find we can prolong the life of many through the proactive treecare progamme that we instituted and are paying for. The overall format of the book has been retained and the same artist, Nina Barranca, has drawn the leaves to illustrate the new inclusions. The guide is still A5 and easy to carry. The trees are arranged in walk order. But the walk can be joined at any point and indeed may take several occassions to complete depending on how long each tree is studied.
We think all members of the Friends should buy a copy and perhaps extra copies for presents.
Price £7.70 including P&P.
Order online here.
[Autumn 2021]

Jigsaw - Winter Fun in Holland Park
Our new jigsaw features Catherine Masterman's watercolour of Holland House viewed from beside the new cafe layout.
Premium quality, laser-cut, 250 piece wooden jigsaw featuring Wentworth's unique 'whimsy' pieces. 360mm x 250mm. Watercolour by Catherine Masterman reproduced by kind permission of Mountbatten Cards.
£23.50 including p&p.
Order online

here

.
Guide to the Birds of Holland Park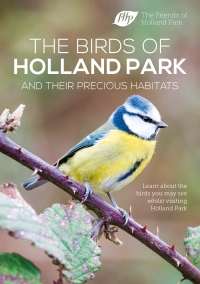 This new guide has full colour photographs and descriptions of 50 bird species that you can either see in the park, or can identify as they fly over the area. There is an explanation of how to identify the birds and many of the photos show typical behaviours that will help with identification. You will also learn the best places to find these birds in the park and some tips on bird watching.

68 pages. Price: £7.70 including P&P.
Order online here.


Tea Towel
Cotton tea towel showing paintings of some of the flowers that grow wild in Holland Park. Size: 48 cms x 64 cms.
Price £7.50 including P&P.
Order online

here

.
Children's Guide to Exploring Holland Park
Children will love this new book packed with fabulous things to discover, interesting facts and lots of fun activities. At 36 pages, there is enough to keep kids occupied through the holidays and over many visits, so you do not have to think up ideas to occupy them. We were advised by children (6-10-year-olds) who told us what they really, really liked and what simply did not interest them; and we listened. If you have children, small relatives or friends with kids, do not deny them the chance to try out the word searches, spotting challenges, nature drawing, 'spot the difference' and dot-to-dot pictures.
Price £6.70 including P&P.
Order online here.
Decorative Art in Holland Park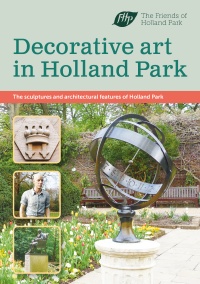 Our 'H is for Holland' guide to the sculptures and architectural features of Holland Park has sold out, so we have produced a new one. We have taken the opportunity to bring the design into line with The Guide to Holland Park and the Kyoto Garden booklet and to add the more recent decorative features in the park. You can buy a copy from the Park Office in the Stable Yard. The 32-page booklet comes complete with a map to show the location of statues, sculptures and other works of art.
Price £6.70 including P&P.
Order online

here.

[Spring 2016]

New Guide to the Kyoto Garden
It was a long time coming but well worth the wait! You can buy a copy from the Park Office in the Stable Yard. The 20-page booklet comes complete with map and details of all the features in the Kyoto and Fukushima Gardens.
Price £4.75 including P&P.
Order online
here.
[Autumn 2015]

Notecards and Postcards
'I can't find your notecards' said one of our members after searching our art exhibition. We thought the Orangery was full of notecards but enquiry revealed that our member meant the not-very-wintery view of 'Holland House through the Trees' which we had used in two sizes as a Christmas card. So we ordered some especially for her in the smaller size (4.75" x 6.75") without a greeting, and while we were at it got some extra, thinking others might like them too. So you can order them or packs of 5 black/white postcards of the north face of Holland House as it was in the nineteenth century. These are also being sold by our good friends in the Park Office. Do look into the Park Office to see them all and any other cards we may be offering.

Prices vary.

Order online

here.

[Summer 2019]
GUIDE TO HOLLAND PARK

Produced by The Friends of Holland Park
Some of you know the Park well and some are visitors wanting to know what 's in the Park and where to find it. We hope this Guide will be interesting for all and that you enjoy reading it and find it useful.
The Guide describes the various areas of the Park; the sports and other facilities; the work of the Ecology team; the park services and gives a brief history of Holland House and the people who lived in it. A map in the centre shows you how to find your way around. Even if you do know the Park well, you may discover things you didn't know.
Price £2.75 including P&P.
All FHP publications are available from The Park Reception in The Stable Yard.
Order online
here.
[August 2104]
The Pleasure Grounds of Holland House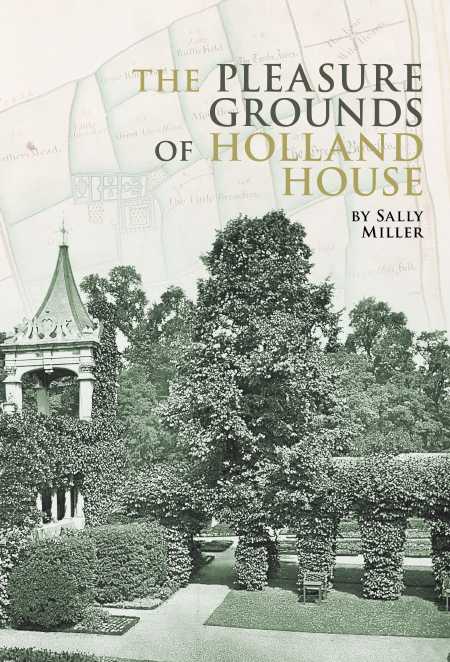 This new book by Sally Miller, commissioned by The Friends as a companion volume to The Families of Holland House published earlier this year (see below) is now available - just in time for Christmas!

The Holland House estate was created in 1591, covering about 500 acres from what is now Holland Park Avenue almost to the Thames. Little has been written about the park and pleasure grounds, but Sally Miller has discovered records to show that they were laid out by owners with taste as well as money, who were familiar with the finest gardens in England. Changing landscape fashions down the centuries were reflected in the gardens of Holland House.
This book uses the surviving evidence to create impressions of the gardens as they would have been seen and experienced in each of the four centuries of their existence. It will add a new dimension for those who visit and enjoy Holland Park today; there are still places to stand and imagine how the pleasure gardens of Holland House once looked.
Sally Miller studied for an MA in garden history from Birkbeck College in her retirement and is now a professional garden historian researching, writing and lecturing on garden and landscape history. She contributes both to the work of the Hampshire Gardens Trust and the London Parks and Gardens Trust. She has previously published The History of Bishops Park and articles in Garden History and the London Gardener.
The Pleasure Grounds of Holland House (paperback, 243mm x 169mm, 112 pages, 60 mono and colour images).
Price online £12.00 including P&P.
Order online

here.

[Autumn 2012]
The Families of Holland House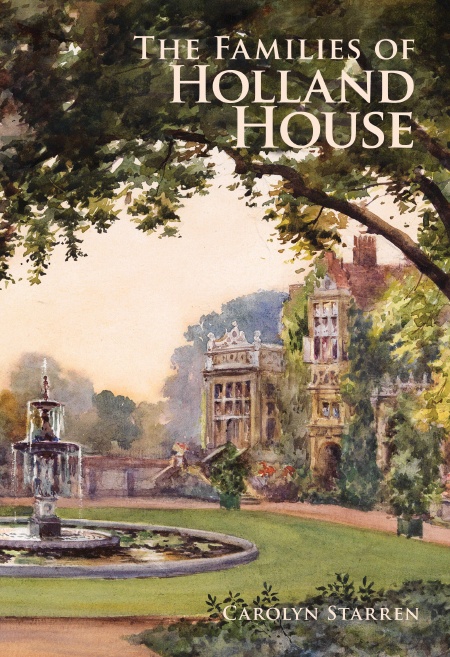 A new book has been published by The Friends:
For over 300 years successive owners of Holland House in Kensington were at the heart of political, social and literary life in London until the house was bombed during the Second World War. The Cope and Rich families (the Earls of Holland and Warwick) were the owners from 1604 to 1721, and the Fox and Fox-Strangway families (Barons Holland and the Earls of Ilchester) from 1726 to 1951.

These influential and interesting figures of London society and beyond, and their guests, are the cast of Carolyn Starren's painstakingly researched and fascinating account of the life and times of Holland House. Commissioned by The Friends of Holland Park, Carolyn Starren, as a past Local Studies Librarian for The Royal Borough of Kensington & Chelsea and a lifelong resident of Kensington, is pre-eminently well qualified to write this definitive social history of Holland House.

This 64-page, soft-covered book measuring 243mm x 169mm. has 39 illustrations, 11 of which are in colour, and two family trees.
Price online £7.50 including P&P.
Order online

here.

[Spring 2012]