Forthcoming Events
Christmas Concert
Sunday, 4 December 2022, at 7.30 pm in the Holland Park Orangery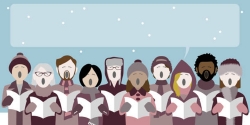 It will soon be the Festive Season, a time to get together and celebrate. What better occasion than joining The Friends' Christmas Concert, held in the beautiful Holland Park Orangery. The chandeliers will be sparkling, the music and voices outstanding, and you will be able to meet old friends and new over a glass of wine after the concert.
This will be the twenty-second time Philip Simms' Tallis Chamber Choir will entertain us with their wonderful voices, singing to music chosen from across the years, interspersed with readings. There will be a chance for us to join in with the carols too. As ever, Philip Simms will select an original and varied programme. It will be a glorious event, with lovely music in the fine setting of the historic Holland Park Orangery.
After the concert, we will be treated to Janice Miles's delicious canapes and a glass or two of wine. Tickets, at £27, can be ordered online here.
Do join us for this concert at the start of the Festive Season.
[November 2022]
Talk by Tim Marlow, Director of The Design Museum
Wednesday 22 February 2023. 7.00 p.m. in the Holland Park Orangery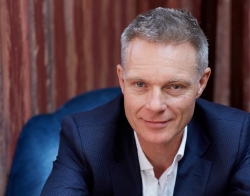 The Design Museum became our new neighbour in November 2016 and, since then, it has evolved significantly. Covid meant we had to postpone the talk to be given by Tim Marlow, the museum's Director, but now we have Wednesday 22 February 2023 firmly fixed for him to tell us just how it has changed. He will give us the news on future plans and explain why the museum wants to be part of the local community, as well as being the world's leading museum devoted to design in all its forms.

Formerly Artistic Director of the Royal Academy of Arts and Director of Exhibitions at White Cube, Tim Marlow has been involved in the contemporary art world for the past thirty years as a curator, writer and broadcaster. He has worked with many of the most important and influential artists of our time to deliver wide-ranging and popular programmes and brings a commitment to diverse and engaging exhibitions to his role showcasing the transformational capability of design. Tim Marlow sits on the Board of Trustees for the Imperial War Museum, Art on the Underground Advisory Board, the Design Age Institute and Cultureshock Media and was awarded an OBE in 2019.
Those of you who have visited The Design Museum recently will know what an exciting place it is. Tickets are £18, to include wine and Janice Miles' delicious canapés.
Order tickets online here.
If you use the Holland Park car park before 6.30 pm, please remember that the meters no longer take cash.
Photo courtesy of The Design Museum
[November 2022]