Payments via the FHP website
You are now able to make payments to The Friends of Holland Park directly from this website. Payments may be made for new membership, renewing membership, event tickets, art exhibition entries and merchandise.
Payment is made through PayPal, but you are not required to have a PayPal account; you can make payment from your debit or credit card.
As from now it will no longer be possible to download an order form from this website and pay by cheque. We apologise if this is an inconvenience for you, but it makes good sense for The Friends administratively. Paid up members will still receive an order form with their quarterly newsletters.
If you have any problems, please contact Rhoddy Wood on 020 7602 0304 or Rhoddy.wood@virgin.net.
[January 2018]
Landscape in the Making
Tuesday, 20 February, at 7pm in the Orangery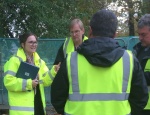 By the time we hear this talk by Xanthe Quayle, much of the work on the Holland House and Café Yard landscaping improvements will have been completed, but the site will still be closed, and you will not have seen what it will eventually look like. You certainly will not know the complexities faced when working on a historic site with all sorts of surprises under the earth, nor the technical demands of providing for a canopied open-air theatre for the opera with over a thousand seats. Come along and find out what is involved in our major landscaping project.
Xanthe Quayle is owner and Director of Camlin Lonsdale, the landscape architects who designed the scheme and who are overseeing the implementation. She was brought up in this area and has known the park since childhood: a fitting context for appreciating our historic assets.
Tickets are £18, to include wine and Janice Miles' delicious canapés.
To order tickets online, please click here.
Photo of Xanthe Quayle on site by Camlin Lonsdale
[Winter 2017]
Moss Walk Led by Dr Alan Harrington
Alan Harrington, known to many of you for his tree walks, spent his professional life studying mosses. He continues to observe them wherever he goes, and has agreed to come to Holland Park 11am-1pm on Saturday, 10 March 2018, to see what is new since the last walk for us on a similar date in 2017 when he made some interesting finds. Numbers are strictly limited, so please book your place on 020 7602 0304 or on rhoddy.wood@virgin.net. You will need a hand lens of at least 10 x magnification to appreciate fully the beauty and intricacies of these natural wonders.
[Winter 2017]
Heavenly Duets
Friday, 20 April 2018, at 7.30pm in the Orangery
Our annual recital in the Orangery, surrounded by the Art Exhibition, will next year be performed by Heavenly Duets: flautist Anne Allen and harpist Cecily Beer. It will be a mixture of classical and light music, and we are very much looking forward to welcoming this unusual duo to Holland Park. There will be more detail about their programme in the spring newsletter. Tickets at £18, to include wine and light refreshments.
Order online by clicking here.
[Winter 2017]
Ecology Events Sponsored or Run by the Friends
Come and explore the natural world we are lucky enough to have in Holland Park. Many of the talks, walks and events organised by the Ecology team are sponsored by the Friends so that they can be free for participants. Experts will help us discover things in the park that we may not notice for ourselves.
Events sponsored by the Friends
6 July: Ornithologist, Bill Haines, and ecologist Netty Ribeaux will entertain us with some fascinating facts from research on parakeets, before we go out into the park to see if we can spot parakeets congregating before they head off to roost. Bill is well known to many park visitors from his annual bird-ringing demonstration in the Wildlife Area.
10 July: We are delighted that Allan Watson of the Bumblebee Conservation Trust is back again to tell us more about the threat facing bumblebees, and about their importance for our gardens, natural habitats and of course our park. Alan is passionate about these most loved and familiar of our garden insects and is always keen to share his knowledge with us.
The Trust's leaflet says 'bumblebees have smelly feet': I think we need to know more.
14 September: Join an expert from the London Bat Group and delve into the nocturnal world of bats. Learn about their natural history before searching for them with bat detectors in Holland Park. You need to bring a torch.
All the above events are free, but you do need to book on ecology.centre@rbkc.gov.uk or 020 7938 8186.
Events run by the Friends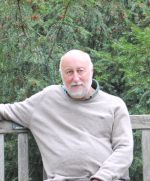 The Friends run a Nature Walk on the first Saturday of each month, for which you do not need to book. We meet outside the Holland Park Café at 9 a.m. and choose a route to see whatever is of interest at the time, whether birds, plants or trees.
We are delighted that John Wells has agreed to lead the Nature Walk on Saturday, 1 July. John is an experienced nature-walk leader and has a remarkably varied knowledge about birds, beasties and green things that grow. He also knows Holland Park and some of the natural history delights in it. On this occasion he will pay particular attention to our native trees, and help us be more aware of what we have.
The full Ecology programme can be found on www.rbkc.gov.uk/ecology
[Summer 2017]