Art Exhibition 2020
With all the changes in the world, I get great comfort from our community and its traditions, one being this exhibition: it uplifts me enormously.
We had another successful exhibition last spring, achieving just a little under our record year in 2017. I received positive feedback; more locals know about the event, posters are being seen, physically and electronically: The Friends are now reaching out via social media. Once the art exhibition has been discovered it is not forgotten. The exhibition is becoming an annual tradition for visitors just as much as for the artists, organisers and Friends. Please help us build on this success: e-mail the exhibition poster and arrange to meet your clients in the Orangery. Weekends are too busy; however, on weekdays, if you have someone coming to see your work and you cannot get to the Orangery, just let me know and I will make sure one of the stewards on that day can welcome your client, show them your work and answer any questions.
Friends who are artists and artists who become Friends are invited to exhibit up to ten works; two framed works to hang on the walls, and up to eight unframed works for display in the portfolio browser stands, with a maximum size of 70 x 100cm (including mounts, but no wooden mounts please).  Friends are also invited to exhibit up to ten three-dimensional objects such as ceramics, glassware and small sculptures, or enter the mini-market of small works on offer at £40 or less, including cards and craft items.  The minimum price for works in the main exhibition will be £50.
Friends interested in exhibiting in the art exhibition, the mini-market or both need to register and pay the £10 entry fee.  Artists who have registered for the main exhibition may also include small works in the mini-market at no additional cost. Please register as soon as possible, as space is limited and when enough artists have registered we cannot accept any more.
Information about The Friends of Holland Park Art Exhibition is available  from me, Gordon French, 19 Kensington Court Place, London, W8 5BJ; tel:  020 7937 7222; e-mail:  gordon.l.french@gmail.com
All the information regarding the 2020 exhibition Feature Artist and the sponsor will be detailed in the spring newsletter.
Register online here.
Gordon French
[Winter 2019]

Art Exhibition Timetable 2020
Friday, 27 March Final date for completed artist exhibit details forms to be received to allow catalogue listing.
Friday, 17 April Artists deliver artworks to the Orangery, Holland Park, 8.30-11am.
All artists will be required to sign the catalogue to certify that all details shown are correct.
Friday, 17 April Hanging and judging, 11am-6pm.
Friday, 17 April Private View, 7.30-9.30pm.
Saturday, 18 April Private View, 10.30am-12.30pm.
(Exhibiting artists are entitled to one artist ticket and four complimentary guest tickets. To receive, artists will need to state the day, and number of tickets required.)
Saturday, 18 April Exhibition open to the public, 1-6pm. Entry free of charge.
Sunday, 19 to Sunday, 26 April Exhibition open to the public 10.30am-6pm.
Entry free of charge.
Sunday, 26 April Artists and buyers collect works, 6-7pm
Monday, 27 April Artists and buyers collect works, 9-11am
Artists are particularly asked not to collect their works before 6pm on SUNDAY, 26 April
[Winter 2019]

Report on The Friends of Holland Park Art Exhibition 2019
Another year, another superb exhibition with exceptional attendance and sales; the Orangery looked fantastic. It is such a pleasure organizing this exhibition, my family and I get a great deal of satisfaction from seeing things working and growing, particularly when we have good weather, which we did this year, making the exhibition very special. To the artists a big 'thank you'. The exhibition is going from strength to strength, and this is thanks to you. People would not come, return year after year, spend their money and tell their friends about us, if it were not for your art. The standard of the work is excellent, and the sales figures prove it.
There was only one painting to return to this year's Feature Artist, Ihor Ropyanyk; he sold every other painting on the wall. This was unprecedented in the history of the Feature Artist, and we are of course delighted, for Ihor and for the exhibition.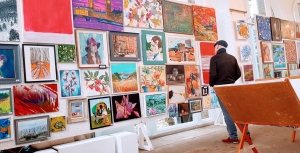 As always, the exhibition was expertly curated by Alison Becket with the assistance of Alex French, Neil Gidman and David Flynn. In addition to hanging the exhibition, Alison also judged it. Thank you, Alison. It was wonderful that two long-time Friends and artists won prizes this year. The Prize for Artistic Excellence went to 'Portrait of Sangeeta' by Patrick Killery, and the prize in the three-dimensional category went to John Schetrumpf for his conversation piece entitled 'An Ancient Harpooner'. The Hugh Casson Prize for Drawing was awarded to Pauline Rafal for her intricate portrait 'The Ink's Tale', while The Spirit of Holland Park Prize, awarded by the FHP Trustees, went to 'Winter in Holland Park' by Krystyna Dankiewicz. Many congratulations to all the prize winners and to Alison for her considered judgement.
As always, Rhoddy Wood ran the Mini-Market brilliantly, and her administration in all areas is invaluable. Thanks also to Joy Puritz for her compilation of the catalogue, which is never a simple task and very time consuming. We are also most grateful to the other Trustees and the stewards for volunteering their time.
Special thanks are due to our sponsor for the second year, Ilchester Estates. The Ilchesters have been associated with Holland Park for many years. This year we featured a painting by Dowager Countess of Ilchester to demonstrate the great passion she had for the house and gardens. Ilchester Estates' new development, Holland Green, next to the Design Museum, has breathed new life into this end of the High Street. We hope they will continue to support the exhibition for many years to come.
As always, we had generous support from local restaurants, hotels and businesses who donated all the prizes for our raffle. Well done to the winners and everyone who bought a ticket. The entire proceeds of the raffle go to The Friends of Holland Park.
The administration for next year's exhibition begins as this year's is finalized. Next time I write will be my call for artists to enter. Thank you again to the artists: you are the exhibition!
Gordon French
Photo by Alessia

[Summer 2019]