Holland Park's Cup of Tea
Talk on 25 October 2018 in The Orangery
Our speaker, Jonathon Jones, established the first British tea plantation at the Tregothnan Estate in Cornwall. He has not only applied his undoubted horticultural knowledge, but has encouraged the public to think very differently about tea drinking – quite a challenge in a nation of tea-drinkers.
It all started with selling the estate's produce as a way of funding the estate's ten gardeners. He fascinated the audience with stories of growing the Camellia sinensis in an area it would not have been thought possible – alongside the River Fal at Truro. Research and experimentation have led to some 35 'clones' of the tea bush. A 'clone' is what would be called a cultivated variety in other plants. Experimentation continues, and Jonathon is considering how the true scent of the tea bush could be built into our cuppa, probably from the flower, instead of the false scent that is usually added.
He told us how to make tea, and that boiling water brings out the bitterness. Black tea should be brewed at 95o, herbal tea at 85 o, and green tea at only 75o to get the optimum taste. Who knew that.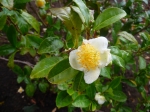 Holland Park has venerable camellias but has not had the tea bush until recently, when we bought one from Tregothnan. Jonathon wondered about other links. Tea was introduced into Britain around 1610, just a few years after Sir Walter Cope built Holland House. Were his family early adopters of tea?  The Duchess of Bedford was a well known tea drinker. Did she drink tea at Holland House? Did Earl Grey visit Holland House, in spite of the fact that he and Charles Fox did not always agree?
Tregothnan is now a very successful international tea business, even exporting tea to China. We were tempted by the many variations of tea available from the estate. As yet, stock of the products in Britain is selective, but the full range is available on their website: www.tregothnan.co.uk. One person in the audience commented that: 'We can expect to see exciting things happening in the tea world over the next few years, with the tea trade recognising the role Jonathon and Tregothnan are playing.'
The evening was rounded off with delicious canapés and a Tregothnan tea cocktail concocted by our events organiser, Graham Franklin.
Text and photo: Jennie Kettlewell
[Winter 2018]
Autumn Bat Walk
It is good to see that the Ecology Service events are being well attended and the Bat Walk on the evening of 13 September was no exception.
It was led by a representative of the London Bat Group, who was full of praise for the woodland areas of the park and how these allow for the dark conditions that bats need. Old trees are important too, as these have the nooks and crannies which bats need for roosting, i.e. resting and sleeping.
Participants saw Soprano and Common pipistrelles. There was also a brief appearance over the Wildlife Enclosure pond of a Nathusius' pipistrelle, which we were told was a new record for Holland Park. Probably this was a bat only passing through the park, but clearly it found it a useful place to feed during its journey.
This event was sponsored by The Friends, so that those who were interested could participate for free.
Richard Kulczycki
[Winter 2018]
Pimm's in the Park
This year we had better luck with the weather than last: it was a lovely sunny evening on Tuesday, 24 July. Thanks to Michael Volpe, General Director of Opera Holland Park, we again had the use of the marquee overlooking the Dutch Garden and, it being dry, we were able to enjoy being on the terrace as well, for an even better view. We were very pleased to see so many new faces, and it was a good opportunity to talk to members, and to hear their views. Plentiful and tasty canapés were enjoyed, washed down by a refreshing Pimm's concoction.
[Autumn 2018]
Heavenly Duets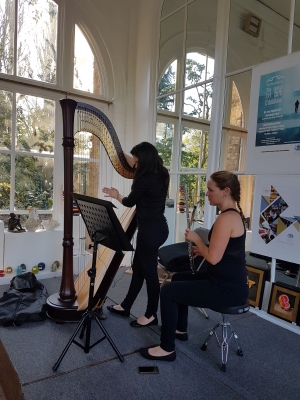 It felt like a summer's evening in The Orangery on 20 April: the sun was shining, the air was warm, the children and peacocks were crying out merrily across the lawn. Inside was the glittering display of glass, ceramics, bronze sculptures, not to mention the screens against both walls covered with art works of the highest standard, a standard which we have come to expect of our annual art exhibition. The browsers had been put to one side to make space for chairs, for this was our concert night, this time blessed with the delightful combination of flautist and harpist, a duo known as Heavenly Duets, normally made up of Anne Allen (flute) and Cecily Beer (harp), but Cecily having that morning been taken ill, Portuguese-born Zita Silva replaced her at a few hours' notice, giving us a highly accomplished performance without a pluck out of place. Anne Allen's flute playing was beautifully expressive: one could hear at once in the opening piece, the second movement of Mozart's Flute and Harp Concerto, how much she loved what she was playing.
We were treated to more classical music, by Saint-Saëns, Massenet, Debussy and the French harpist, Marcel Tournier, before Mike Abrams stood up from the audience to tell us about his composition, Suite in the Old Style, of which we were to hear the world première. He reassured us that, as the title suggested, this was not going to be in the style of a composer like Stockhausen; indeed, the three movements were perfectly accessible and a great pleasure to hear.
The second half took on a lighter mood, with British folksong arrangements, Mancini's Moon River and Gershwin's Embraceable You. Instead of the billed Entr'acte by Ibert, the concert was rounded off with Lord Henry Somerset's A Song of Sleep. Anne read out the poem, also written by the composer, assuring us that, in this cruel world, sleep is a great consoler. Despite this soothing finale, the audience did not fall asleep but helped to remove the chairs in order to make way for wine and Janice Miles's delicious canapés.
Joy Puritz
Photo of Zita and Anne rehearsing in the afternoon of the concert by Sandra French
[July 2018]
Landscape in the Making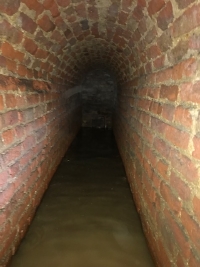 The elegant brick-lined passage pictured here is an old private sewer for Holland House, found under the terrace during the recent landscaping work.
Xanthe Quayle of Camlin Lonsdale, the landscape architects who designed the scheme, gave us a fascinating glimpse of the unexpected discoveries during the work on the terrace:  hollow chambers, dressed kerbstones, crazy drainage and unexplained walls. Each new find had to be explored and dealt with before work could continue. The laid paving finish on the planning application all looks relatively simple, but it is what is under the ground that has proved to be the real challenge.
The audience were clearly impressed with Xanthe and her team's attention to detail in choice of stone types, colours and variation for the paving, all of which had to take account of the huge weight of the Opera Holland Park auditorium canopy and the 50-ton crane needed to install it. Not, by any means, a simple commission, added to which Xanthe explained that a project of this magnitude would normally be allowed 18 months, rather than the six month winter break between opera seasons.
The terrace will be a great place to sit in the winter sun, to admire Holland House and its new environment, but we will not be able to do this until the end of September. At that point we will be able to enjoy the pinks, ochres and pale greys of the different stones. We will write a more detailed article in our winter newsletter.
Jennie Kettlewell
Photo by Camlin Lonsdale
[July 2018]
Christmas Carol Concert
There was a good audience on the 10 December in the Orangery for the 18th visit by the Tallis Chamber Choir and their conductor, Philip Simms. With the wide range of carols, in terms of both period and nationality, beautifully performed, and the wonderful food provided by Janice Miles, it was a great way to start the Christmas season.
We began with Cantate Domino by Claudio Monteverdi (1567-1643), one of four motets published in 1620 in Libro Primo di Motetti; the text is liberally adapted from Psalm 98 in a distinctive madrigal style, with give and take between the six parts. There followed a jolly contemporary carol, Blessed be that maid Marie, by Gareth Treseder, a Welsh tenor and composer and former member of the Kings' Singers. We then had the Coventry Carol, Lully Lulla Lullay, a carol dating from the 16th century in a setting by Philip Stopford (b.1977), which is lilting, solemn and hymn-like. This was followed by another contemporary work, The Shepherd's Carol, a setting of a poem written by Clive Sansom (1910-81) composed by Bob Chilcott (b.1955), another former King's Singer, with a melody of lovely folk-like simplicity. We finished the first half with Philip Simms' own arrangement of Have yourself a merry little Christmas.
After the interval we started with Ring Christmas bells by the Ukrainian composer Mykola Leontovych (1877-1921) with a rhythmic melody imitating bells. This was followed by Here is the little door by Herbert Howells (1892–1983), composed in 1918 with a solemn, hymn-like melody. Then came The three kings by the German composer, Peter Cornelius (1824-74), for choir with a baritone solo, sung by Philip Simms' 16-year-old grandson. What shall I give to the Child in the manger?, which followed, was a Spanish carol with no attributable composer, with rhythms suggesting the folk drums that accompanied many Spanish carols. We then had Stars by the Latvian composer, Eriks Esenvalds (b.1977), an atonal piece with many dissonances, nevertheless accessible and very representative of modern choral harmonic style. There followed Quem vidistis, a 17th-century text in a setting by Francis Poulenc (1899-1963) in a style following Maurice Ravel, which blends simplicity with sophistication. Finally we had the two parts of the Cherubic Hymn by Sergei Rachmaninov (1873-1943), which form part of the Liturgy of St John Chrysostom, composed in 1910 in classic Russian Orthodox religious style.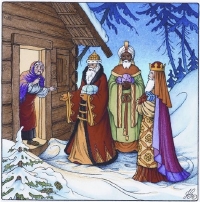 The carols in the first half of the concert were interspersed with the usual humorous readings, and two carols sung by the audience. The second half consisted of the reading of the Russian Christmas legend of Babushka, interspersed with the carols listed in the last paragraph, as well as two more for the audience. Babushka was a lonely old woman living in a beautifully kept house, who invited three wise men to take rest in it, but declined their invitation to follow the star with them to find 'the child who is born to be King'. Later she changed her mind and set off to find the child, taking with her toys to present to him. Asking people as she went, she followed the way of the wise men to Bethlehem, but he and his family had already fled to safety. Legend has it that she is still searching to this day and, whenever she meets any children, she gives them toys.
George Law
Illustration - Babushka meets the three wise men, by Jillian Gilliland
[Spring 2018]