Ancora Duo Excelled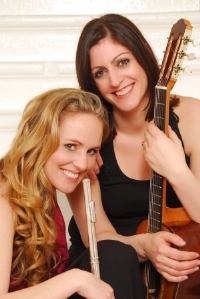 Anne Allen and Sarah Freestone hit exactly the right tone when they entertained us at a concert on 12 April, surrounded by the colourful works of our art exhibition. Anne we knew from her lovely flute playing in last year's performance, with harp. Sarah and her accomplished guitar playing were new to us. It was hard to imagine what the combination of flute and guitar would be like, but it was stunning and very much appreciated by the audience.
What made the occasion even more special was their easy dialogue and spirited introduction to each piece: a fluidity that comes from having played together as the Ancora Duo for nine years.
The final piece, in a varied programme, was Astor Piazzolla's  Tango Bordello from L'Histoire du Tango. They managed to conjure up the mood of the bandoneon-playing composer's exotic music. I asked my Argentinian niece if she knew of him. 'Of course!' she said. 'I just wish I had been there to hear it.' She would certainly have enjoyed it, as did we all.
Jennie Kettlewell
[Summer 2019]
Christmas Carol Concert
We seem to say it every year, that the Christmas concert was better than ever; well, the one we enjoyed on the evening of 9th December seemed to surpass, yet again, all previous performances for us by The Tallis Chamber Choir and their conductor, Philip Simms. The Orangery (beautifully warmed thanks to our ultra efficient events organiser, Graham Franklin), was gloriously ringing with the vibrant sound of 18 singers and their accompanist Michael Paine. Janice Miles's first class canapés were to die for, and her mouth-watering stollen and mince pies gave us a foretaste of Christmas.
The first carol, Ave Maria: settings of portions of the Angelus as well as the Ave Maria, and composed by the German composer Franz Biebl in 1959, began with a beautiful monastic chant by the men. As other voices joined, we heard delicious crunching harmonies interspersed with more chants. In the first half we also enjoyed a lively syncopated Nova! Nova! by Bob Chilcott, and the joyful Frolocket, ihr Völker auf Erden by Mendelssohn interspersed with gentler carols such as The Wexford Carol and a Basque lullaby.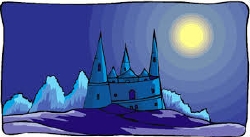 As usual there were several readings, and carols sung with the audience joining in; and the second half consisted of the poet laureate, Carol Ann Duffy's poem, Wenceslas, that describes a bizarre feast, the main dish of which is a Christmas pie of many kinds of poultry stuffed within each other in a list as long as a bird guide. This narration was interrupted eight times by cleverly chosen carols, including one composed by Henry VIII, accompanied by a drum and a tambourine. This group of carols culminated in a brilliant arrangement, by the conductor, of the traditional Twelve Days of Christmas, full of lovely variations and thrilling key changes.
The encore was by Josef Rheinberger, who spent most of his life in Germany but was born in Liechtenstein and, at the age of seven, already served as organist in the parish church of Vaduz. The tranquil Abendlied is a verse from the biblical narration of the road to Emmaus: 'Abide with us, for it is toward evening, and the day is far spent.' It is Rheinberger's best known sacred composition, the first version of which he composed at the age of 15. After the tranquil opening carol, this was a very fitting rounding off to the concert.
Joy Puritz
[Spring 2019]