Holland House and its Architectural Context
It was gratifying to hear a real expert tell us that we have something 'precious' in the elegant remains of Holland House. The expert was Malcolm Airs, Emeritus Professor of Conservation and the Historic Environment at Oxford University, when he gave a talk to the Friends on 18 October.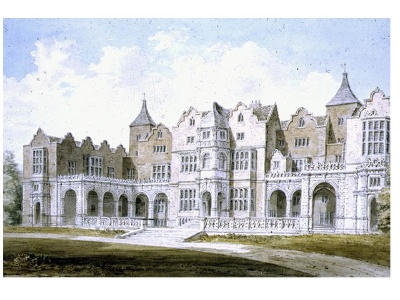 His talk was entitled 'Jacobean Country Houses in the London Countryside', and he provided a fascinating history of the architectural context of Holland House. The first examples were of grand houses centred on a great hall, and where this hall was fully evident from the outside, given away by the large windows designed to light the big table at the 'high end'. This was followed by a trend for symmetry, with the service areas and rooms for the privileged more difficult to distinguish from outside and often masked by loggias. From 1603, novelty was in vogue, and pleasure grounds were created to be viewed from the roofs of the loggias and from the entertaining areas on the first floor. The service areas were banished 'below stairs' to the basement.
So we can now see where Holland House fits in. Built in 1605 for Sir Walter Cope, we first saw a plan for a compact symmetrical house, then a later design by John Thorpe, showing west and east wings and a loggia. These wings were built in 1638, and the resulting H-shape was found in many other great houses of the period. It is interesting to reflect that many illustrations of Holland House show so much decoration that the symmetry is far from evident.
Later mansions were built to a more regular shape, with the eccentric exception of Papillon Hall in Leicestershire, a six-sided building with extensions later added to resemble the shape of a butterfly.
Malcolm teased us with his extensive knowledge of the many threats to Holland House over the years – we are lucky it has survived – and his studies of the old stables. Not only were we hearing his talk in the Orangery, created out of the old stable building, but he could tell us exactly where each horse stall was and more. But that is for another occasion.
We do indeed have something precious, and we must ensure it is conserved.
Jennie Kettlewell
Photo courtesy of rbkc.gov.uk
Pimm's in the Park
Last year we had a cloudless sky for our Pimm's party; this year, on 11 July, it was teeming with rain. But no one cared because we were under cover, and still with a fine view of the Dutch Garden, thanks to Michael Volpe, General Director of Opera Holland Park, who had again allowed us to use the marquee overlooking the garden. Mr Volpe was of course a welcome guest at the party, thanked publicly by FHP Chairman, Jennie Kettlewell. The Pimm's was perfectly mixed, and the canapés were plentiful despite the 80 or so attendees. We were pleased to see quite a few new faces as well as old friends. Every now and then we could hear the lovely sounds of an opera rehearsal in the distance...
[Autumn 2017]
Russian Virtuosi of Europe
There was a very good audience in the Orangery for the concert by the Russian Virtuosi of Europe: Natalia Lomeiko (violin), Yuri Zhislin (viola), and Adi Tal (cello).
The concert started with the Aria (the basic theme ) from J.S. Bach's Goldberg Variations, transcribed for string trio by Dimitri Sitkovetsky, a Russian violinist, conductor and arranger, who emigrated to the United States in 1977, but now lives in London. The piece was played as a tribute to the late Colette Price, former trustee of The Friends of Holland Park, who had introduced Natalia Lomeiko, and hence the Russian Virtuosi, to the Friends.
The main work was Mozart's Divertimento in E-flat major, K563, for string trio. It was composed in Vienna in 1788, the same year in which he completed his last three symphonies, and is dedicated to Michael Puchberg, a fellow mason, who lent Mozart money. It was first performed in Dresden in April 1789 by Anton Teyber (violin) and Antonin Kraft (cello), with Mozart himself playing the viola. It is in the classic divertimento format of six movements, including two minuets, one slow movement in sonata form and another in the form of a theme and variations. Throughout the work the substance and depth of the work show great maturity, with remarkable richness of colouring achieved with such modest instrumentation, and it has nothing in common with lighter  'entertainment music', the literal meaning of divertimento. As Alfred Einstein, a German-American musicologist, noted in Mozart: His Character, His Work, published in English in 1945, 'It is a true chamber-music work, and grew to such large proportions only because [...] it was intended to offer something special in the way of art, invention and good spirits [...] Each instrument is primus inter pares, every note is significant, every note is a contribution to spiritual and sensuous fulfilment in sound' and 'It is one of his noblest works'. One cannot but agree with Einstein's conclusion.
The Virtuosi gave us a truly brilliant performance, which made it, to me, the best of all the concerts that they have given for us. It was a truly memorable evening, which will give me great pleasure in retrospect for a very long time.
George Law
[Summer 2017]

'From Anvil to the Finest Wrought Iron in the Land'
On the evening of 22 February, rounded off as usual by wine and Janice Miles's delicious canapés, Managing Director of Topp & Co., Chris Topp, fascinated our audience in the Orangery with the story of his career as an expert in the design, construction and restoration of metalwork such as bronze, but particularly wrought iron, of which his specialist division, The Real Wrought Iron Company, is one of the few suppliers left in the world.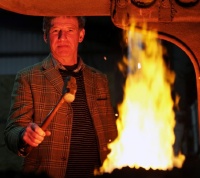 He explained that wrought iron is not only so called because of the way it is worked but because of the kind of iron it is: an alloy of iron and slag inclusions which gives it a fibrous quality and grain, rather like wood. It is less corrodible than steel or cast iron. It is malleable, easily welded but tough: the door of the Great Pyramid was made of it, and it is still there.
Chris grew up in industrial Bolton and, as a student, became a volunteer involved in industrial museums. He also used to wander into the works of Thomas Walmsley & Sons and, on seeing his first rolling mill aged 18, he 'fell in love' with hot metal. He became a blacksmith, and got his family involved; in fact, his wife still designs some of his beautiful creations. He set up his first works in Buxton, Derbyshire: Dorothea Restorations, which still exists today. Needing more space, he moved to North Yorkshire and began work at the bottom of his garden. Starting with six men, they are now 26 and, due to the company's fine reputation, several are keen blacksmiths from countries such as France, Switzerland, Lithuania and the Czech Republic. As Chris said, 'Hot metal is addictive.'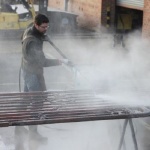 He showed us photos of stunningly beautiful creations and restorations on prestigious sites such as Lincoln Cathedral, the Palace of Westminster, Westminster Abbey and St Paul's Cathedral. They even made a working replica of a cannon from the Mary Rose. In St Paul's, Topp & Co. were commissioned to replace a 450-foot handrail of 1703, the one in the Whispering Gallery; as requested, they made it look as if it had been made in 1703 and yet last another 300 years. No problem. Their ability to work quickly is also impressive: they had just two months in which to make a new balustrade for the entire staircase in the Queen's Gallery.
Chris ended with a photograph of the Earls Court gates in Holland Park, newly restored by his company. He was delighted by the attention of the audience, and the number of interesting questions asked. From one of these we heard that Topp & Co. had been storing for several years bits of the gates that had looked in danger of dropping off. The Borough had asked for them to be removed, pending restoration some time in the future. Thankfully it is now in the past.
Joy Puritz
The Earls Court Gates, Then and Now...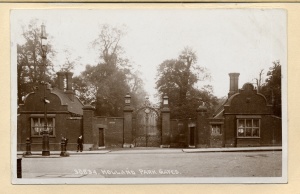 The gates ca 1900, complete with lodges (courtesy of RBK&C. with thanks to Friend John Rae for drawing our attention to this photo) and the gates in June 2017, photo by Joy Puritz.

[Summer 2017]


Christmas Carol Concert
On the evening of 4th December the Orangery was virtually full for what Philip Simms, the director of the Tallis Chamber Choir, said was their seventeenth consecutive year with us, and the quality of the music and the food and drink made it a wonderful start to the Christmas season. I have been to most of the seventeen concerts, and I listen to a lot of carols and other choral music, but Philip Simms's knowledge and programming ability is such that there were only two of the thirteen pieces that I had heard before.
The first piece on the programme was a setting of Shakespeare's Blow, Blow thou Winter Wind by John Rutter (b.1945), composed in 1973 as part of a six-movement work called When Icicles Hang, reflecting Elizabethan melody. Next was Torches by John Joubert (b.1927), a British composer of South African descent; a short, vigorous carol composed in traditional style in 1951. This was followed by the arrangement by Sir David Willcocks (1919-2015) of The Cherry Tree Carol in traditional style. Next was a delightful and spirited carol, The Little Road to Bethlehem, by Michael Head (1900-76). We then had BC:AD – This Was the Moment by David Bednall (b.1979), a carol composed in 2013, setting to music the poem, BC:AD, by Ursula Fanthorpe, the full text of which was read immediately beforehand; the music was a mixture of 20th and 21st-century styles, at times almost atonal. The next piece, Softly, by Will Todd (b.1970), a tranquil carol that echoes the peace of Christmas, had an indirect connection with Holland Park as his opera, Alice's Adventures in Wonderland, was commissioned by Opera Holland Park in 2013. We ended the first half with Haec dies by William Byrd (1539/40-1623), a 6-part motet, part of Byrd's Cantiones Sacrae II of 1591, with a wide variety of dynamics and a gentle, bouncing rhythm.
The second half started with a version by Ukrainian composer Mykola Leontovych (1877-1921), of Carol of the Bells, originally a song for New Year's Eve, a jolly carol in which the bells can be heard throughout the piece. This was followed by A New Year Carol, a folk song of Welsh origin, generally sung in New-Year celebrations, set to music by Benjamin Britten in 1934 in an uncharacteristically traditional style, written for schoolchildren to sing. Next was a beautiful setting of the text Remember, O Thou Man for tenor and soprano solo and chorus, written in 1962 by Arthur Oldham (1926-2003), a very distinguished choral conductor and composer. We then had the celebrated solemn and classical setting of Panis Angelicus, part of the Eucharistic hymn written by St Thomas Aquinas in 1264, set to music by the Belgian composer César Franck (1822-90) in 1872, and probably Franck's best known work. A complete contrast was the arrangement by Andrew Carter (b.1939) of De Virgin Mary had a Baby Boy, a very jolly calypso-like spiritual. Finally we had Sure on this Shining Night, the third movement of Nocturnes by the American composer Morten Lauridsen (b.1943), in 20th-21st century popular style. As an encore, the choir sang When You Wish upon a Star.
In between the choir's singing, the audience sang four carols in reasonable voice, and there were the usual entertaining readings. After the concert we enjoyed Janice Miles' wonderful canapés, and the wine flowed freely.
George Law
[Spring 2017]