Christmas Cards 2023
This year's Christmas card is a view of Holland House from the formal gardens'. It is a view we all know well and combines two of the best loved features of the park. It is again by Clare Weatherill, who has also painted our popular card "Holland House through the Trees", which we sell throughout the year.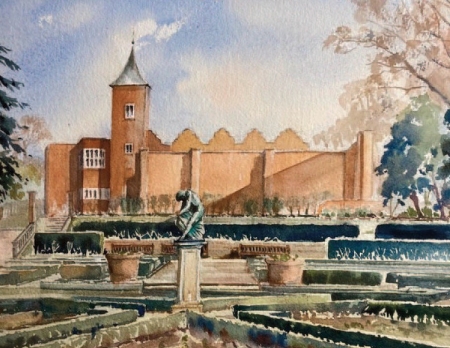 The standard greeting on all Christmas cards is "With best wishes for Christmas and the New Year", but you can choose to ask for them blank. We hold a supply of these cards, with greetings, in three options:
• Standard, 152 mm x 197 mm format at £6.50 for five
• Smaller, 118 mm x 168 mm at £11.00 for ten.
• Mixed packs of ten designs of Holland Park from past years, at £6.50. These will be mostly the larger size and in three or four different designs.
All of these are in stock from now and can be quickly delivered.
In addition, there is a range of other Holland Park cards in the brochure enclosed with this newsletter. Members may be especially interested to see two versions of the view of the café, pre and post the new café terrace layout, which was completed in 2018.
It would be a great help if you could order early, so that the publisher knows what initial printing he needs.
To order online please click HERE.
If your newsletter is hand-delivered (no stamp,) our delivery of Christmas cards is free. If your newsletter is delivered by post, we have to charge an additional £1.70 per ten cards or a single pack of 5 large. If you are unsure whether you are in the free delivery area, please ask rhoddy.wood@virgin.net. Please note that sending the order to The Friends instead of direct to Mountbatten gets the Friends an extra discount, unless overprinting is required. If you do order direct, please remember to say which charity you would like Mountbatten to make a donation to; naturally we would hope it was The Friends, but you are free to choose any charity.
Rhoddy Wood
[September 2023]