Christmas Cards 2019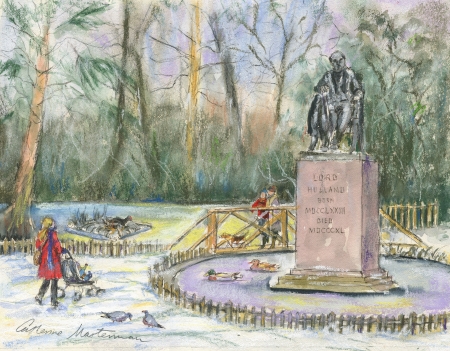 Our new design is by Catherine Masterman, who gave us such a popular card last year. This is of Lord Holland with his pond with a cast of avian as well as human visitors, but the pigeons have been banished to the ground. It is in the same slightly swirly, cheerful style as before, and we hope a lot of you will brighten up your friends' mantelpieces with it.

We will hold a ready supply of these cards in both the standard 152 mm x 197 mm format at £10 the pack of ten, and the small 118 mm x 168 mm at £8.50. We will also make up mixed packs of old designs of Holland Park at £6.50, which will be very largely of big ones in at least three or four different designs. These can all be very quickly delivered. It would be a great help if you could order early so that the publisher knows what initial printing he needs. If your newsletter is hand delivered (no stamp) our card delivery is free, but beyond that we have to charge an additional £1.70 per 10 cards.
Order online here.

[Autumn 2019]