Christmas Cards 2018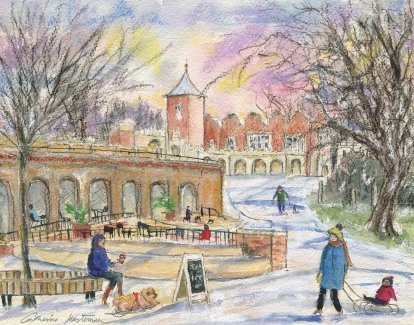 Our Christmas card this year of the new café yard, by Catherine Masterman, shows how it will look once it has settled in and is attractive in its own right. We will hold a ready supply of these cards in both the standard 152 mm x 197 mm format at £9.50 per pack of ten, and the small 118 mm x 168 mm at £8.00.
We will also make up mixed packs of ten old designs of Holland Park at £6.50, which will be very largely of big ones in 4 or 5 different designs.
Delivery by hand to local postcodes is free, but beyond that we have to charge an additional  £1.70 per pack of large or mixed cards and £1.40 for small cards.
All cards will have the standard greeting 'With best wishes for Christmas and the New Year'.

Do avoid that last minute panic.