New Gates to the Wildlife Enclosure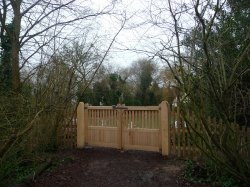 At last the oak gates to the Wildlife Enclosure have been installed, and they look splendid.
I say 'at last' because the story starts with my 2012 visit to the Chelsea Flower Show. That is when I noticed the elegant yet robust gates displayed by exhibitor Oak Leaf Gates from Hereford. They seemed the right company to design and make the gates the Ecology Team had asked the Friends to fund.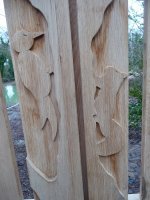 Many designs and lots of discussions later, we arrived at an appropriate concept. Then trustee Graham Franklin took over the project, and things speeded up, resulting in a very satisfactory conclusion.
Oak Leaf select timber from certified sustainable sources in Europe. The wood is dried in a biomass boiler, burning woodchip. The power in the workshop comes from 140 solar panels. After the 5-7 year seasoning and drying process, a bark-covered section of the tree is cut into components determined by the design drawing. Then the detail cutting and hand carving starts. Only one craftsman works on the wood from start to finish, which gives a sense of ownership and real pride in the piece. Aaron James made our gates. We know that from the little bronze plaque with his name on it, fixed to one of them. Next, Ledbury-based blacksmith, Alex Wilkins, made the hinges and closure.
Throughout, the Friends worked with Holland Park Management, the Ecology Team and the crime prevention officer in the Parks Police: apart from looking attractive, the gates were designed to prevent unauthorised access.
Thanks are due to all involved, not least to Graham Franklin for seeing the project through.
Jennie Kettlewell
[Spring 2017]