The Pleasure Grounds of Holland House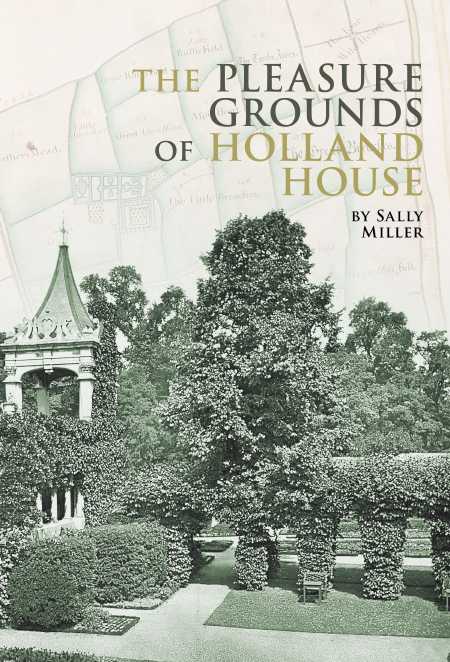 This new book by Sally Miller, commissioned by The Friends as a companion volume to The Families of Holland House published earlier this year (see below) is now available - just in time for Christmas! 

The Holland House estate was created in 1591, covering about 500 acres from what is now Holland Park Avenue almost to the Thames. Little has been written about the park and pleasure grounds, but Sally Miller has discovered records to show that they were laid out by owners with taste as well as money, who were familiar with the finest gardens in England. Changing landscape fashions down the centuries were reflected in the gardens of Holland House.
This book uses the surviving evidence to create impressions of the gardens as they would have been seen and experienced in each of the four centuries of their existence. It will add a new dimension for those who visit and enjoy Holland Park today; there are still places to stand and imagine how the pleasure gardens of Holland House once looked.
Sally Miller studied for an MA in garden history from Birkbeck College in her retirement and is now a professional garden historian researching, writing and lecturing on garden and landscape history. She contributes both to the work of the Hampshire Gardens Trust and the London Parks and Gardens Trust.  She has previously published The History of Bishops Park and articles in Garden History and the London Gardener.
The Pleasure Grounds of Holland House (paperback, 243mm x 169mm, 112 pages, 60 mono and colour images) may be obtained at £9.99 (plus £1.40 p&p). Please send your cheque, made payable to The Friends of Holland Park, to  Rhoddy Wood, 21 Kenton Court, 356 Kensington High Street, London, W14 8NN.
[Autumn 2012]
The Families of Holland House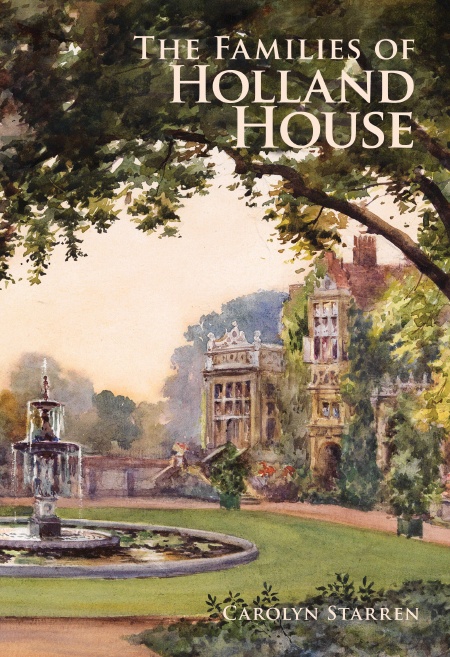 A new book has been published by The Friends:
For over 300 years successive owners of Holland House in Kensington were at the heart of political, social and literary life in London until the house was bombed during the Second World War. The Cope and Rich families (the Earls of Holland and Warwick) were the owners from 1604 to 1721, and the Fox and Fox-Strangway families (Barons Holland and the Earls of Ilchester) from 1726 to 1951. 

These influential and interesting figures of London society and beyond, and their guests, are the cast of Carolyn Starren's painstakingly researched and fascinating account of the life and times of Holland House. Commissioned by The Friends of Holland Park, Carolyn Starren, as a past Local Studies Librarian for The Royal Borough of Kensington & Chelsea and a lifelong resident of Kensington, is pre-eminently well qualified to write this definitive social history of Holland House.                  

This 64-page, soft-covered book measuring 243mm x 169mm. has 39 illustrations, 11 of which are in colour, and two family trees. 

It is available at £5.95 plus £1.10 postage & packing. Please send your cheque, made payable to The Friends of Holland Park, to  Rhoddy Wood, 21 Kenton Court, 356 Kensington High Street, London, W14 8NN.
[Spring 2012]
Jigsaws
Some years ago we were able to offer for sale jigsaws depicting a Holland Park peacock in full display. These are now available again and we have added a beautiful new jigsaw of the Kyoto Garden. Both are high-quality, finely-cut wooden puzzles of approximately 250 pieces measuring 360mm x 250mm. Made for us by Wentworth Puzzles, they contain unique "whimsy" pieces shaped to reflect the image theme, and will happily challenge you for hours. They are packaged in a smart shrink-wrapped box with the puzzle's picture on the lid – ideal for presents.
Please order them on the order form, which can be downloaded.

[Summer 2010]
Tortoises with Triangle and Time
This was one of the most generally popular of the pieces in the Millennium Bronze Exhibition and many people were pleased that it found a permanent home on the D Lawn in the park. One of the Borough staff while cleaning out her cupboards before retirement found a pile of postcards depicting it very clearly and still as bright as the day they were printed. She has given them to the Friends to sell and I am sure many of you will want them.

The postcards are in full colour and double size, ie 15 cm x 20 cm and come with their own envelope. We are selling them for £1 each, postage included.