New Gates to the Wildlife Enclosure
At last the oak gates to the Wildlife Enclosure have been installed, and they look splendid.
I say 'at last' because the story starts with my 2012 visit to the Chelsea Flower Show. That is when I noticed the elegant yet robust gates displayed by exhibitor Oak Leaf Gates from Hereford. They seemed the right company to design and make the gates the Ecology Team had asked the Friends to fund.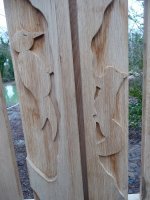 Many designs and lots of discussions later, we arrived at an appropriate concept. Then trustee Graham Franklin took over the project, and things speeded up, resulting in a very satisfactory conclusion.
Oak Leaf select timber from certified sustainable sources in Europe. The wood is dried in a biomass boiler, burning woodchip. The power in the workshop comes from 140 solar panels. After the 5-7 year seasoning and drying process, a bark-covered section of the tree is cut into components determined by the design drawing. Then the detail cutting and hand carving starts. Only one craftsman works on the wood from start to finish, which gives a sense of ownership and real pride in the piece. Aaron James made our gates. We know that from the little bronze plaque with his name on it, fixed to one of them. Next, Ledbury-based blacksmith, Alex Wilkins, made the hinges and closure.
Throughout, the Friends worked with Holland Park Management, the Ecology Team and the crime prevention officer in the Parks Police: apart from looking attractive, the gates were designed to prevent unauthorised access.
Thanks are due to all involved, not least to Graham Franklin for seeing the project through.
Jennie Kettlewell
[Spring 2017]

Tonda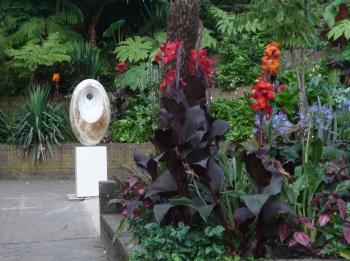 Holland Park's Sun Trap garden has been nurtured to create an exotic display of colourful plants and ferns. At the centre sat an empty brick plinth just crying out for a sculpture that fitted the richness and warm colours of the planting.
Rhoddy Wood and I researched sculptors and, after a rewarding visit to a sculpture park in Farnham, decided that Jonathan Loxley was the artist we wanted. Jonathan studied marble sculpture techniques in Florence and eventually set up his own studio in Carrara, Italy, the home of marble. His sculptures have been widely exhibited in Europe. We liked his work because it is mystical, and understanding it is left to one's own imagination. After meeting him and agreeing a form, stone and size, Jonathan set off to Italy to buy a large chunk of honey-coloured onyx. He went to work in his studio, now in Salisbury, making several visits to the Sun Trap garden to check how the piece would look in situ.
Finally, on 17 July 2014, 'Tonda' arrived in Jonathan's trailer. The weighty piece was expertly transported from the car park to the site by Scott and Louis, wielding an oversized telehandler (or telescopic handler), under the watchful eye of RBK&C's Abi O'Neill. Liam, the Quadron man responsible for the Sun Trap, kept an eye on proceedings to ensure that none of his planting was damaged. Once the new plinth was secured, the sculpture was firmly cemented into place and oriented to best effect.
Why 'Tonda'? We wanted a suitably mystical name with links to her Italian origin. Tondo is an Italian word which is used for rounded pieces of art and, since the piece is female, 'Tonda' is appropriate.
Jonathan told us: 'In my work, I try to strip away the superficial so that it can be experienced at an elemental level. People respond to Tonda's colour, texture, feel and shape in a way that is hard to describe to someone who hasn't seen her.'
'Tonda' was commissioned and paid for by the Friends.
Text and photos: Jennie Kettlewell
[August 2014]