2022
AGM: Come and Hear about Plans and Achievements

Wednesday, 6 April, 7.30 pm in the Holland Park Orangery

It is great to be able to get back together again, to hear what is going on in the park. It is a chance to catch up with each other over a glass of wine and share our experiences.
Be sure to put the date in your diary and come along, with your comments and questions. The formal part is usually over quickly, and we will have time to talk about what has been achieved over the past year and what needs to be done now. The park has been busier than ever during the pandemic, though the main projects have kept going and much has been achieved. But there are still real challenges, and plans are afoot for improvements.
Often, when it seems things are improving, people do not feel they need to come to the AGM. But please do come as there are still issues, as there will be with any park. We also need your votes at the meeting to ensure your committee remains in place to carry on the work. Come and challenge us with thoughtful questions and share your ideas. The trustees need your support and want to know that we are representing you.
Members should please register to attend by contacting your chairman on jennie.kettlewell@thefriendsofhollandpark.org or calling 020 7243 0804.

We look forward to seeing lots of you on 6 April.
Jennie Kettlewell
[Spring 2022]
Art Exhibition 2022
Saturday 2 April: Exhibition open to the public until 10 April. Entry free of charge, 10.30am – 6pm.
We're back in The Orangery again with our art exhibition. It is not only an exhibition, but an art fair where you can buy paintings, three-dimensional works or something from the Mini-Market. Our talented and hard-working artists (and maybe you are one of them), deserve to sell their pieces, and every sale helps support our very special park.

Our feature artist is Annie Leach, who has been interested in botanic art since childhood and says her work combines two passions, painting flowers and visiting beautiful gardens. You can see that passion in her painting on our exhibition poster.

We are fortunate to have a painting in the exhibition from Sir Angus Stirling, President of The Friends. He has been a supportive president for many years and is also an accomplished artist. Do visit the Art Exhibition, bring your friends, enjoy and buy.
[March 2022]
New Blue Badge Tours

Blue Badge guided tours of Holland Park re-start in March, but with a new twist. Due to the Opera canopy in summer and conservation works in winter, there is only one week in two years that you will be able to see the front of Holland House: the week commencing 7 March. The big old house will look splendid, as appropriate for a Grade-11-listed building, now that the stone, bricks and mortar have been conserved or replaced. Take the opportunity to see it for yourself and hear the history of the house and the families that lived in it, from our expert Blue Badge guides, Leila and Rowan. There is also a fresh version of the Sculptures, Statues and Art tour, which focuses on more northerly parts of the park. Dates and how to book can be found under Events. Numbers are limited, so book early.
Jennie Kettlewell
[Spring 2022]
News Update as at 28 January

Trumpet Lawn

You will have noticed that the lawn to the west of the Belvedere Restaurant has been fenced off, and two men from Bartletts Trees have been hard at work aerating the densely compacted soil around the trees. When tree roots are starved of oxygen, they slowly die, as was discovered when the huge Holm Oak at Kew was blown out of the ground by the great storm of October 1987. When popped back in its hole, it thrived, and we all learned that aeration of the roots benefits trees. Vertical mulching round each tree will add valuable nutrients, before idverde add a layer of topsoil and seed with grass. The area will be protected with chestnut fencing until the grass is sufficiently robust to withstand all those little feet running about in that area. A Pyracantha hedge will be planted along the north railings. The big ash has been cut back to a high monolith, as it was diseased and dangerous, and the intention is to add decorative wood sculpture around the remaining trunk.
Holland House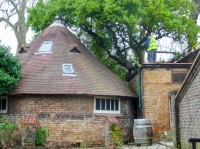 By the time you read this, the conservation work on Holland House will be all but finished and the site will be formally handed back to the Council on 7 March. Allies & Morrison, the conservation architects, together with Borras, who carried out the work, gave a presentation to a small group of trustees of The Friends and park management. Who knew that lime mortar was so interesting? Some very clever techniques were used and much of the work, such as the balustrades, was hand-cut detail. Included in the conservation project has been the upper causeway from the house, across the top of the café to The Orangery, and also structural repairs to the old dairy to prevent further water ingress.
Camellia bed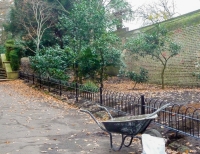 The historic camellia bed, all along the north side of the old Dutch Garden wall, is looking rather sparse, and new plants are needed. Records show that the bed was in a horrible tangle when the LCC took ownership of the park in 1952. It was cleared out and camellias were planted along the full length of the bed, with many old varieties. When the International Camellia Society visited in March 2018, they were so impressed with our collection that they offered to advise on what we should add in that needy bed. It should look splendid, with some modern camellias, but should also tell the story of the history of camellias in Holland Park. As a start to improving the site, a classic iron railing has been added. That is a hint not to walk on the bed and, as Kew notices say: 'Please don't tread on me, I'm trying to grow!'
Toilets

The improvements seem to have been in the plan forever. We expected the work to be done last autumn and we have no idea why the Council has not given the okay to start. It is very badly needed, as the toilets are not of a standard expected in a Grade-II-listed park.
Café

We have no information from the Council about why the internal improvements to the café have not gone ahead. They were planned years ago, to make operating the café more practical, and to reduce queues. The lease was due to go out for tender some years ago, but has been postponed a year at a time, making it very difficult for the current operator to make the enhancements they would like. We ask the Town Hall, please, to let us all know what is going to happen and when.
Belvedere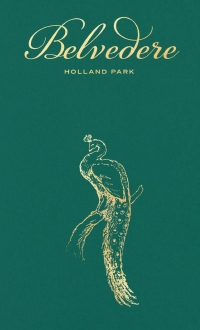 Work on the interior is being meticulously done, with respect to the history of the building. It should look beautiful and be a welcoming environment to enjoy some tasty food for a special occasion, lunch with the family, or just because you are in the park and hungry. The opening is still scheduled for summer 2022. Their new logo for the restaurant will incorporate a peacock and will be similar to this design.
Jennie Kettlewell
[Spring 2022]
Alice Laughton Joins to Head RBKC's Ecology Service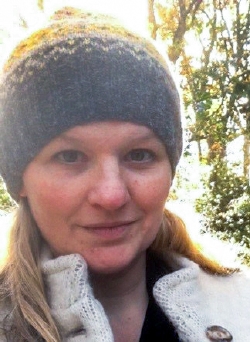 Dr Alice Laughton brings a wealth of useful experience to Holland Park and the whole borough. Having started with a BSc in Zoology at the University of Edinburgh, she went on to gain a doctorate in Ecological Entomology (study of insects), during which she focused on the immune system of honey bees; that will be appreciated by our Holland Park bees. More academia followed, during which she studied how factors such as environmental temperature, ageing, nutrition and disease affect how animals develop their immune responses.
She became interested in the importance of communicating science in a way that engaged the public and she was Chief Scientist on a British Exploring Society expedition to the Amazon rainforest. I think we'd all like to hear more about that.
In 2017, Alice joined The Royal Parks to lead a 5-year project, which combined public engagement with habitat monitoring and conservation works. She says: 'It was a truly collaborative project that involved working with park managers, contractors, wildlife specialists, learning partners and Friends groups.' She introduced conservation grazing to The Green Park and created wildflower meadows, while developing public community projects, with creative interpretation to increase public awareness.
Alice's experience and interests are good news for Holland Park as the RBKC Biodiversity Action Plan (BAP) goes forward for approval. The BAP is a guide for how we will protect and support wildlife in the borough, and the resources needed to do this. It sits alongside the Green Plan and is interlinked with RBKC commitments to climate change and air quality. For the first time, the BAP will focus on the health and wellbeing benefits of access to nature. She is well aware of the increased pressure on our precious parks and the challenges of competing priorities for people and wildlife. The BAP, and associated Woodland Management Plan, will set ambitious targets for protecting, enhancing and expanding habitats for wildlife in Holland Park. That is very good news.
We look forward to getting to know Alice and seeing her get our long-awaited Woodland Management Plan up and running.
Jennie Kettlewell
[Spring 2022]
The Friends' Pop-up Stall

Watch out for The Friends' pop-up stall in the Café Yard, when we aim to entertain children with our 'Holland Park Detectives' spotter activities, during half terms and school holidays. Come and ask your questions about the park, look at and buy our guides to the park, or buy a tea towel showing wild flowers in the park. Spring plants will be on sale, grown by the idverde gardeners in the park's plant nursery. Or just come and say 'hello'.

All talks, concerts, tours and activities are listed under Events. It will be great to meet all our members in person once again. It's better than Zoom!
[Spring 2022]
Parks Police 30th Anniversary
This photo shows some of our Parks Police team, taken in November 2021, to mark the 30th anniversary of the force. Not all of the team are in the photo as they work on different shifts to provide the cover needed.
We are always grateful for all the Parks Police do to keep our borough parks safe. They tell us their challenges are pretty varied, from lost property to lost children, from sympathetic help for the homeless to calming down spats between visitors. Thank you!
[Spring 2022]
2021
News Update
As at 1 September 2021
Holland House conservation
Stage 2 of the conservation programme starts in September, when Opera Holland Park has vacated the site. Not only will the surface of the Grade-1-listed building receive the sort of detailed care that contractor, Borras, accorded the east wing, but various structures, listed under the curtilage of Holland House, will be carefully conserved.
The old walls that formed the top of the old basement to the house at the rear have been deteriorating fast, though the bricks that have come loose have been carefully collected and stored by idverde. Conserving what is left of these walls means future generations will have a better understanding of what the house used to look like. The intention is to install an information board to explain the history of the walls, with the hope that park visitors will be discouraged from using them for play and exercise.
The Old Dairy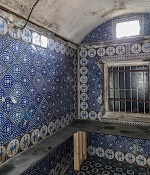 We hope that the old dairy (the room between the ice house and the café) will have the cracks in the structure repaired, to prevent further water ingress. Then we must find the funds to conserve the old tiled interior. (Photo by Skelly & Couch Ltd)
The upper and lower causeways
The upper walkway over the café will be resurfaced to prevent water leaking into the arcade below, and the capping on its tiled wall will be repaired to prevent water damaging the recently conserved tiles. All this heavy rain does find its way into built structures unless they are suitably sealed. If you look up atthe ceiling of the arcade outside the café, you will see a mess of tangled wiring, most of which is redundant and will be removed, with new lighting being installed to highlight the historic tiles.
The Belvedere
The new lessees of the Belvedere Restaurant did some thorough research into the history of the building before putting in their application for planning consent. Plans mainly include new kitchen equipment, removal of non-original plasterwork to reveal the beautiful old bricks, and opening up the wall between kitchen and restaurant to give a more animated atmosphere.
Bird observations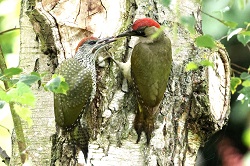 Member, Tasso Leventis, reports that he witnessed a female green woodpecker feeding its newly fledged juvenile in the Kyoto Garden. He later encountered the female west of the North Lawn. This was in July. In June, he observed a female goldcrest collecting small patches of moss just north of the Belvedere, presumably as nesting material. He comments that this was late in the breeding season, but could represent a nest repair after a first brood. Tasso was pleased to see blackcaps' successful colonisation of the park, and reckons there are many breeding pairs. We hope to put some statistics on these welcome observations when we see the result of Bill Haines' bird surveys in the park, commissioned by the Ecology Service and paid for by the Friends. (Photo by Tasso Leventis)
Jennie Kettlewell
[Autumn 2021]


Notable Trees of Holland Park
Third Edition 2021
Many members will have enjoyed the guide to the Notable Trees of Holland Park we first printed in 2007. When in 2016 that was out of print and out of date, we re-issued it , increasing the number of trees from 50 to 65. Now in 2021, we have re-issued it again, keeping the same number, but replacing those that have died. This happens at an alarming rate; one tree even going as we worked on the new edition. Some of these have been killed by honey fungus which is always present in the park, but only strikes fatally when trees are stressed. The Friends find we can prolong the life of many through the proactive treecare progamme that we instituted and are paying for. The overall format of the book has been retained and the same artist, Nina Barranca, has drawn the leaves to illustrate the new inclusions. The guide is still A5 and easy to carry. The trees are arranged in walk order. But the walk can be joined at any point and indeed may take several occassions to complete depending on how long each tree is studied.
We think all members of the Friends should buy a copy and perhaps extra copies for presents.
Price £7.70 including P&P.
Order online here.
Rhoddy Wood
[Autumn 2021]
We Need Someone to Help with Events
We would welcome additional help to run some of The Friends' activities.
The sort of events we run is changing to include more guided tours and activities in Holland Park, as well as our customary talks and concerts in The Orangery. Each occasion needs careful planning, as well as involvement on the day. This volunteer role might include creating flyers and posters as well as other means of attracting attendance from the local community. We do not seek wider publicity. Part of the enjoyment is in planning activities and when we have a pop-up desk in the park creating a buzz that attracts park visitors to come and learn what The Friends are about and what we do for Holland Park.
This would suit a well-organised person who works part time, or has recently retired, and who would enjoy working as part of a team of friendly volunteers. IT literacy in Word, Excel and PowerPoint is essential. An interest in the park is important, as is willingness to learn how The Friends' work fits into its wider political context.
If this interests you, or you know someone who might be interested, please contact chairman, Jennie Kettlewell on jenniekettlewell@thefriendsofhollandpark.org to find out more.
Jennie Kettlewell
[Autumn 2021]

Parks Police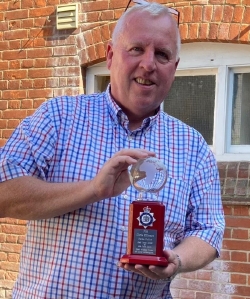 It was sad to say goodbye to Sergeant Chris Ellinson when he retired in July to work with the community nearer to his home in Kent. A group of police and park management colleagues, as well as Rhoddy Wood and Jennie Kettlewell from The Friends, met in the Stable Yard to thank him for all he has done to help keep Holland Park safe. Speeches and presentations brought back memories of his 13 years with the RBKC Parks Police, before which he served with the Met. His role involved community interaction, as well as policing, and he was very good at both.
Taking over, as one of two police sergeants in the borough Parks Police, is Arron Haynes, who has been promoted from police constable to take on his new role. Most of you will recognise Arron from his patrols in the park, and we wish him well now that he will be leading one of the two police teams. The other team continues to be led by Sergeant Helen Tilbury. The Parks Police work long hours and seven days a week, so the two teams alternate to provide cover. And of course they cover all the public parks in the borough.
Jennie Kettlewell
[Autumn 2021]
Dave Pickup Joins the idverde Team
It seems no time at all, since idverde won their new contract to maintain the Borough of Kensington and Chelsea's parks. The contract, which started in April 2021, includes greater emphasis on horticulture, social value, carbon reduction, biodiversity, community engagement and technology, with agreed standards for performance. It has not been an easy start, with all that the weather has thrown at the plants.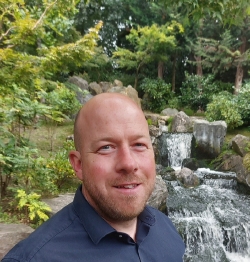 Dave Pickup has joined the idverde team as Contract Manager: no small task. The title sounds like a desk job, but it is not, and he is already walking round the park and getting to know its quirks.
After starting his career in the motor industry, he joined a landscape gardening company and was soon attracted to the subject of grounds maintenance, joining idverde in 2010 as a supervisor in Southwark. Three years later he took up the role of contract manager with idverde in Hammersmith and Fulham, and that is when he first got to know Holland Park. His skills had been noted and he was approached to join the Holland Park team. Dave commented: "I had been in many meetings at Holland Park and was impressed by the diversity. The Dutch Garden looks stunning when on full display, but the Kyoto Garden is probably my favourite place in Holland Park, with its constant high standards and the specific way in which the maintenance is completed. There is an atmosphere and feel to the garden like nowhere else in the park."
His contract role with idverde Holland Park is wide ranging and includes maintenance of the sports facilities as well as horticulture. Much of the work is behind the scenes, such as ensuring the optimum staffing to deliver the newly-won contract, and getting all the new equipment in place.
On meeting Dave, it was clear he has a grip on priorities for the many projects and tasks ahead, and he and the team have already started on the journey of raising standards to a level expected of a Grade-II-listed park. We are delighted that we now have an even stronger team to keep our park looking stunning.
Jennie Kettlewell
[Autumn 2021]

Congratulations to Michael Volpe, OBE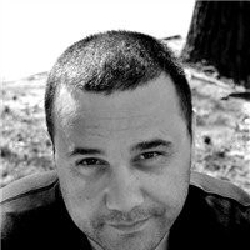 We were delighted when we heard that Michael Volpe had been awarded an OBE for his services to opera. He was a founder of Opera Holland Park and became General Manager as the opera developed its fine performances over the years. He decided on early retirement in 2020 to take on other challenges and is now Interim Executive Director of Iford Arts, the opera and concerts company in the south west of England.
Michael puts his heart and soul into everything he does, and it is no surprise that this has been recognised in the Queen's Birthday Honours List for 2021.
After a few early disagreements, or should I call them misunderstandings, we went on to develop a very healthy relationship between Opera Holland Park and The Friends. We did not always agree, but did not have to as we could always talk through our differences. More often we did agree, and Mike was very sensitive to what impacted the park. He worked hard with The Friends to cut down the build-and-strike time for the opera, without having to shorten the performance period. He always rang if he was thinking about making any change about which we might have a view, and we learned to create solutions that suited both parties.
We are now working with Mike in one of his other roles: he is a consultant at the Kensington charity Nova, which aims to bring people together to create opportunities through learning and sharing. We have welcomed small groups of Nova families to come and learn about the park and to share activities, such as recognizing flower shapes.
Mike's journey to being awarded an OBE has been an interesting one, which you will discover if you read his autobiography, Noisy at the Wrong Times. It is well worth reading.
Jennie Kettlewell

Photo by LinkedIn
[Autumn 2021]
News Update
As at 6 May 2021
Dutch Garden wall
The work of repairing the wall along the north side of the Dutch Garden has been completed. Specialists Pierra added buttresses at the west end of the wall, which was off-straight, and repointed the brickwork. They worked carefully around the Melancholy Man who is now enjoying a more secure setting. Now this is done, we very much hope attention will be given to much needed improvement of the Mediterranean Bed.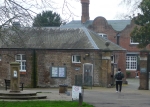 New toilets in Holland Park
We hear that planning consent has been granted for relocation of the toilets in Holland Park. The benefits will be easier access for people with a pram or wheelchair, as well as much improved facilities. The entrance will be in the centre of the long wall just to the south of the entrance to the Stable Yard. Detailed design is the next stage, with the hope that works will be completed in autumn 2021.
Special treatment for a special plant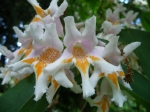 Some of you will know the Dipelta yunnanensis that gives the Dipelta Enclosure its name. You could walk past this shrub almost all year without noticing it, but come May it is usually a showstopper with its clusters of trumpet-shaped flowers. Each creamy trumpet has a startling orange throat to attract pollinators. This shrub is a native of China and is rarely seen, not because it is tender but because it is notoriously difficult to propagate and therefore rarely found in nurseries. Look out for it next to the little twisted hazel by the south fence of the Dipelta Enclosure and opposite the north wall of the youth hostel.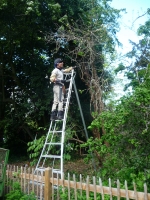 This wonderful shrub flowered lustily for years, but latterly it has struggled against ivy and brambles and, this year, its flowers were sparse. idverde's ace pruner, Marc Sinclair, came to the rescue, has removed the green competition, and pruned the Dipelta with real care. He always looks up a shrub before he starts working on it, in order to learn about it and what it likes. His work was much admired by park visitors who saw him up the ladder and wielding secateurs, though one male visitor seemed much more impressed by the snazzy stepladder.
Remember to look out for a happily floriferous Dipelta in May next year.
Text and photos Jennie Kettlewell
[Summer 2021]
Newsmail Updates
Our newsletters come out four times a year and bring you the latest news as well as articles on subjects connected with the park. A lot can happen in three months, and the process of collating articles, designing the pages, printing and hand delivering can take nearly a month, so that some of the information might already not be fully up to date when you receive it. So we have been experimenting with sending those of you whose e-mail addresses we have permission to keep on our database, circulars with news updates of what is currently interesting in the park, with lots of pictures. These have been well received, and we have now decided to send a 'newsmail' in each month when there is not a newsletter. Those of you who get them will know, for instance, what the latest news is on the re-opening of the Belvedere.
If you have not been getting our newsmails (the last one went out on 2 March, and 397 members opened it) and would like to do so, please check with Graham or Rhoddy whether we have your e-mail address. If not, please give it to us along with your permission to use it for this purpose. If we already have your address, but you are not getting the newsmails, you can try checking your junk mail. Better would be to move the address susan.vannorden@FHP.org to your list of preferred senders or 'never block e-mails', or whatever your software (e.g. Outlook) calls it. The process varies for different software, so the Friends cannot tell you how to do this, but you might have a family member or techy friend who can help you. We will not send your address to anyone else or share it with third parties.
We hope you will like these newsmails and at least try them, but if you find you do not want them, it is easy to tick unsubscribe at the bottom of each message, or e-mail Graham.
Rhoddy Wood
[Summer 2021]

New Restaurant on Belvedere Site
We have just heard that a new company has taken on the lease for the restaurant in Holland Park. When we spoke to the directors, they had only had the keys for two days and were just beginning to explore the possibilities.
It is good news that they plan to open a classic and beautiful Italian restaurant in collaboration with a famous Sardinian chef, Achille Pinna, and to offer a high-quality menu, but not so expensive that local people will not eat there other than on special occasions. There will be a children's menu, so families can enjoy a meal in this historic setting.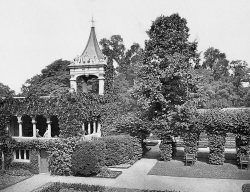 The building was the old summer ballroom and it is a listed building, under the curtilage of Holland House. The interior was beautifully decorated, as many of you will know from eating at The Belvedere, but that decoration was on top of very definitely non-original plasterboard. Archer Humphreys Architects are working on the new design. The new owners have also hired a conservation architect to research the building's history and decide what the inside of the restaurant should look like. We hope the atmosphere will recognize the wonderful past life of the original ballroom. Alterations will be the subject of a planning/listed building application, which means we are unlikely to be able to dine there until autumn, or later.
The lease covers the restaurant building itself, but not The Orangery or surrounding land.
Photo of Belvedere ballroom in 1903, by kind permission of RBKC Local Studies Department.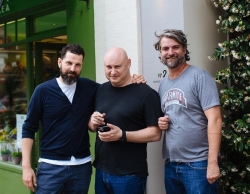 The company that owns the lease also owns Wild Tavern in Chelsea, and the two directors, George Bukhov-Weinstein and Ilya Demichev, have years of experience in running high class restaurants. George told The Friends: 'This is the most amazing restaurant project I have had a chance to work on. We will do our best to bring The Belvedere restaurant to the old glory.'
Our initial discussion included co-operation with The Friends and Park Management to improve lighting from the car park gate to the Belvedere and Orangery, something we have long wanted for our own events. But, will it still be called the Belvedere? We do not know, but a name that refers to the history of the building and the park would be welcome.
We wish the venture every success and hope that many of The Friends will enjoy some tasty meals there in the future.
George, Ilya and general Manager Crispin Sugden, photo by Wild Tavern.
[Summer 2021]
Holland House Conservation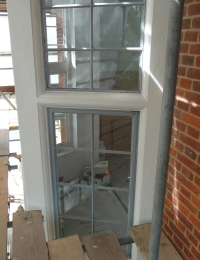 It is great news that stage 1 of the conservation work is going according to plan and is also on schedule. Your chairman can attest to this being a real achievement because she had the benefit of a first-hand view of just how intricate working with old brickwork and grouting can be. One sunny morning in early May, she joined RBKC conservation team leader, Sarah Buckingham, RBKC senior project manager Kerine De Freitas, and conservation architect Anna Joynt from Allies and Morrison, on a tour of the East Wing and tower via the scaffolding. Nick McGrath, site officer from Borras, the contractor carrying out the work, was there to explain how the work had been undertaken.
Seven hundred suitable bricks had to be sourced to replace some old bricks that were fatally damaged. It is now not possible to buy bricks at the size originally used on the house, so each of the seven hundred had to be cut down to the correct size. Then they had to be inserted into the walls of the building, so that it was not obvious which were new and which were old. There is a bit of a mixture, as some of the bricks date back to the repairs in the 1950s, some are very old and some are probably Victorian. The brick repair work done by Borras has been carried out with such great care that one really cannot tell which bricks are the new ones: quite an achievement.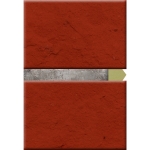 Then there is the grouting, a more interesting subject than you might imagine. The new grouting is hydraulic lime, which is more permeable than cement and allows trapped moisture to escape the structure. We were told that the grouting is in 'bird beak' style. That means the lime mortar is carefully shaped so that the top and bottom of the narrow strip are recessed and the middle stands proud and is pointed like a bird's beak (see the illustration). The benefit is reduced damage to the brickwork.
The much needed window repairs are finished and look robust, without looking too new. Those windows that are metal have been finished in a colour that replicates the old lead windows.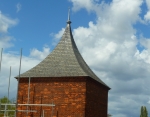 As the group reached the top of the scaffolding, there was a fine view of the re-tiled tower. How to match the old tiles was a bit of a puzzle, until someone noticed that the green tinge was typical of tiles from the Delabole slate mines in Cornwall, claimed to be the oldest working slate quarry in the world. So, the tiles on the roof of the tower are pretty special.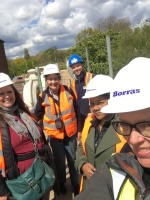 Safestay, who hold the lease to the East Wing of Holland House, plan to return to the building in June. It is probably fortunate that work on their building could be done while the hostel was unable to function, due to Covid.
Conservation of the main Holland House building will be carried out as phase 2, commencing in September 2021. We understand that provision has been made for conservation of the low basement walls that edge the north terrace. They are original and fall under Holland House's Grade-l listing, but are now disintegrating. Holland House will remain on Historic England's Heritage at Risk Register until the work is considered to have progressed sufficiently. We hope that that will not be too long now.
Jennie Kettlewell
[Summer 2021]
idverde Strengthens Links with the Local Community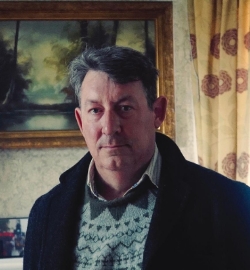 In our spring issue, we mentioned that idverde had created a new post for a Training and Community Manager and will run an enhanced volunteer programme. That post has been taken by Gerry Kelsey, who is not only an experienced horticulturist, but has a reputation for building strong relationships with the community and with friends groups.
Gerry studied at Merrist Wood College of Horticulture, then worked for the Duke and Duchess of Norfolk in the grounds of Arundel Castle, before joining idverde to become head gardener at Dulwich Park. His most recent challenge was as head gardener at the Queen Elizabeth Olympic Park.
We are delighted that we now have the benefit of his experience and skills in Holland Park. On meeting him, it was immediately evident that he loves plants of every type and is very enthusiastic about all aspects of what grows in Holland Park. He knows his wild flowers too.
His new role is to raise horticulture standards further and to increase community engagement activities through effective communication and the creation of a Community Nursery for local groups to use, with community training sessions and workshops.
Many of you ask about the opportunity to volunteer, and an important task for Gerry is to create a more focused volunteer programme, so that all work is linked to park strategy. Work in the woodlands will be informed by the Woodland Management Plan currently being developed. Dates for volunteering are currently being scheduled, and anyone interested should contact ecology.centre@rbkc.gov.uk
Gerry commented: 'Although I have only just arrived, I have been made to feel very welcome. I am looking forward to getting to know the rest of the borough and lifting the standards with the help of volunteers.'
Gerry's enthusiasm for plants is infectious, and walking round the park with him is a constant discovery of green things hiding in plain sight. It is early days yet and we will keep you updated with opportunities for community activities. These are going to be popular, so book up early when you hear about them.
Jennie Kettlewell
[Summer 2021]
Woodland Survey Completed
The survey of the park's woodlands has been completed and we await the full report with interest. The RBKC Ecology Service commissioned Land Use Consultants (LUC) to carry out drone and on-the-ground assessments of habitat classification, structure and composition as a first stage. Based on the habitats found, LUC will consider each area's suitability for different types of flora and fauna using 'indicator' plants to determine what will grow best in the area. The survey will also tell us which invasive species need to be dealt with if they are not to outcompete everything else.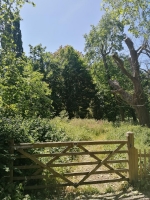 This work is essential to creating and maintaining healthy and sustainable woodlands. Without it, planting would be guesswork and plants might not take at all, or might actually do damage to existing vegetation. Even 'woodland mix' might be completely inappropriate in woodland.
Dr Mark Spencer, in his recent talk on wildflowers for the Ecology Service, warned against wildflower planting without a thorough understanding of the habitat, what already grows there and what will grow there naturally. Mark says: 'So often, the underlying problem is a huge bias in people's perception that plants are inactive, pretty backdrops to nature and not the dominant powerhouse they actually are.'
The intended output from LUC's habitat survey is a Holland Park Woodland Management Plan, and this will provide a blueprint for planting of trees, shrubs and smaller plants, as well as for habitat maintenance.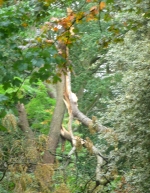 Woodland management sounds simple, but it is not. It is doubly difficult when the trees were all planted at the same time, as is the case with Holland Park's woodlands. They are not ancient, 'natural' woodlands. That means many of the trees are dying at the same time. Only this May, RBKC tree officers found more failing trees in the woodlands and, when these are large trees, the risk of branches dropping cannot be accepted. A large poplar and a large horse chestnut will have been felled by the time you read this. More trees have been earmarked for dead wood removal. It is always sad to lose wonderful old trees, but it has to happen if safety is at stake, and the solution is to plant new trees. It must be said, the Council have been very slow to start this in Holland Park, and The Friends regularly chase up regarding the agreed long-term tree strategy. An assessment of trees in Arboretum 1, Arboretum 2 and the woodland space to the immediate west of the Acer Walk has been completed and there is space for some new trees. The Friends await sight of the assessment so that we can get the planting started. These Arboreta are designated as meadows, so the plan is for interesting trees, not too densely planted, so that the meadows can benefit from light between the canopies. We understand that the Arboretum 1 (East of the Acer Walk) is about to be scythed, to hold back the grass and let the resident wild flowers flourish. There used to be pignut (Conopodium majus) growing in this area, and it will be interesting to see whether it returns.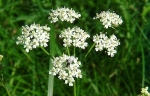 In anticipation of the LUC report, The Friends are assisting the Ecology Service by creating a list of possible trees for planting in the woodlands. The intention is that our native trees are represented, but not all of them are likely to survive the expected change in climate. We can already see that birches are struggling in London parks. Some native trees simply will not cope, so we are adding appropriate species that will be Britain's trees of the future. The advice is to look at what species of tree currently thrive in southern France and in Spain, on the assumption they will like the climate coming to our shores. Do not look at trees from northern climes.
It is worth making the effort to ensure our wildflower and tree planting is sustainable, and that future generations can enjoy Holland Park's woodlands as much as we do. Done correctly, this will ensure the park enjoys healthy woodlands for years to come.
[Summer2021]
Kyoto Garden Gets a Spring Clean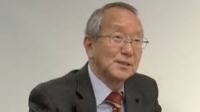 During April, the Kyoto Garden was closed for three days for essential repairs to the pond and to improve the planting alongside it. First the Koi carp were carefully transferred to a holding tank in the Holland Park nursery and then the pond was drained. A surprising amount of sticky black mud was removed and the coins that had been thrown in extracted, before the pond's lining was jet-washed and leaks were repaired. It looked a very messy job for the idverde team, who were joined by Scott and Louis, and all worked extremely hard to get the job done quickly and minimise the time the garden was closed to the public. The Iris ensata (Japanese water iris) rhizomes on the margin of the pond were replaced, and we look forward to seeing the beautiful mauve flowers again this year.
Refilling the pond has to be done so that the water is just how the carp like it: too clean and it will lack the good bacteria that provide nourishment for the fish. Tap water cannot be used as it contains chlorine that kills the good bacteria; so, some of the water that was drained from the pond was mixed with fresh water, and the carp will be monitored to check their health and make sure they thrive.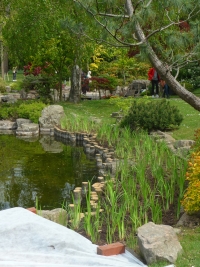 The original garden on this site was built during the summer of 1991. Designed by Shoji Nakahara, it was opened that September by HRH The Prince of Wales and His Imperial Highness The Crown Prince of Japan. The concept was inspired by an earlier Japanese garden in Holland Park and was timed to coincide with the 1991 Japan Festival that marked the centenary of the Anglo-Japanese Society. Between 1991 and 2011, the Kyoto Chamber of Commerce funded visits by teams of gardeners from the Kyoto Gardens Association to ensure the garden stayed true to the original intent: designed for strolling slowly and mindfully along the path past symbolic features and shrubs pruned in the Japanese style. The path should be followed in a clockwise direction, based on the Yi theory of Japanese garden design, which allows the features to be revealed in the intended sequence. Visitors are encouraged to let others enjoy the garden by observing quietly and peacefully so that others can do the same.
In 2011, the agreement with the Kyoto Chamber of Commerce was concluded with a gift of a specialist team, led by Yasuo Kitayama, to develop the next phase of the garden. The original structure was kept, but the cascade was remodelled, and new features added. Scott and Louis were again part of the team working under Kitayama-san, as was idverde's Marc Sinclair, who has been trained in the art of Japanese pruning. At that time, Barrie Maclaurin was RBKC's Parks Manager, and he had, and has, a passion for Japanese gardens, many of which he has visited in their homeland.
A team of Japanese gardeners visited again in 2020 to assess the garden and work on the plants. They expressed their appreciation that the garden has been well tended and has kept to the intended concept. So, the Kyoto Garden is being well cared for, and what remains to be done is to convey to the many visitors that it is a place for quiet observation and respect.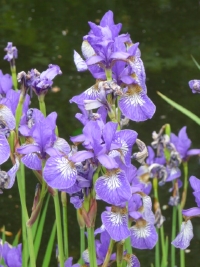 Adjacent to, but separate from the Kyoto Garden, is the Fukushima Memorial Garden. It was created in 2012 in recognition of the support the British gave to the Prefecture of Fukushima at the time of the 2011 tsunami. Yasuo Kitayama returned to oversee the work, and the opening of the new garden attracted the interest of London's Japanese community and the Japanese media, who were in London to cover the Olympic Games. Mr Yoshio Mitsuyama is chairman of the Fukushima Prefectural Association in the UK, has been greatly involved with the development of Holland Park's Fukushima Garden, and is a member of The Friends. He has arranged countless visits to the garden by school children from Fukushima, and his energy and persuasive influence have helped to raise funds. We are delighted to tell you that Mitsuyama-san has recently been recognised by the Japanese Government by being awarded the Order of the Rising Sun for his work to restore the fortunes of Fukushima (northeast Japan) and the wider Tohoku region. This is a prestigious award and well deserved. Our congratulations to Mr Mitsuyama.
The Kyoto and Fukushima gardens are both beautiful. It is only with time and proper care that the true beauty of the skilfully designed gardens will manifest itself.
Jennie Kettlewell
[Summer 2021]
News Update
As at 1 February 2021
Holland House Conservation
The contractor, Borras, took possession of the site on 14 December, and scaffolding now adorns the east wing of Holland House. RBKC's Senior Project Manager reports that roofing works are well underway, as are masonry repairs. The timber window frames of the east wing were very evidently in a poor state, and repairs have been started, to be followed by lead and steel window repairs in February. It is intended that work on the west and south elevations of the east wing will be completed so that scaffolding can be removed in time for erection of the opera canopy, should it be decided to have one this season. Carp in the hostel pond have been moved to a temporary tank. This is the first phase of works. Conservation of the main Holland House building will be carried out as phase 2, commencing in September 2021. Holland House will remain on Historic England's 'Heritage at Risk Register' until the work is considered to have progressed sufficiently.
Information board for Holland House
It is extraordinary that there is no information in the park to inform visitors of the great history of Holland House and the families that lived in it. The Friends have been successful in their NCIL funding bid for an information board, to be sited under the big chestnut tree, at the foot of the access road to the terrace. NCIL (Neighbourhood Community Infrastructure Levy) is a charge the Council collects from new developments in the borough, with a requirement to set aside 15% of the funds to be spent on local priorities. In time, we hope we can arrange a second information board to greet visitors as they approach the house from the north.
Dutch Garden wall
Specialists have been carrying out repairs and re-pointing work on the wall along the north side of the Dutch Garden. Buttresses are being added, in the same style as those already in place, to strengthen the west end of the wall, which is off the straight. It is a complex project and, inevitably, work will take longer than planned. It should be finished around the time you receive this newsletter. We hope that work can then be done to give some much-needed structure to the Mediterranean Bed alongside the wall.
The Belvedere Restaurant
It is sad to learn that The Belvedere will not return to Holland Park. We are waiting to hear from the Council what they have in mind for this very special venue. Needless to say, The Friends have a view on what would, or would not, be appropriate for this prime Holland Park site.
Lord Holland's Pond
Back in October, the lining of Lord Holland's Pond sprang a leak. The idverde team, together with Scott and Louis, and helped by some volunteers, drained the pond and cleared out the accumulated rubbish. Once they had repaired the lining, the team replaced the plants and plant cages around the perimeter, all of which should provide an improved home for this year's tadpoles and moorhen chicks.
Text & photos Jennie Kettlewell
[Spring 2021]
Membership Cards and Subscriptions 2021
Those of you who use your membership cards to receive discounts when shopping with some of our Friends and Neighbours, might have noticed that the end of February is when your card expires. A new one is enclosed with this newsletter if our records show that you have paid your subscription for 2021. Your order form will be white. All subscriptions were due on 1st January except for those who joined after 1st September 2020. If we think you have not yet paid, there will be no membership card, and your order form will be green with a standing order form on the back. Over 600 of our members use standing orders as it means they never have to remember again, and it helps our treasurer too.
Or you can pay using our website www.thefriendsofhollandpark.org or post a cheque, payable to The Friends of Holland Park, to Graham Franklin, 19 Campden Hill Gardens, London W8 7AX.
Current minimum rates are £12, or £9 for the over 65s, with joint subscriptions available for two people at the same address for £20, or £15 where both are over 65. You will agree that these are very moderate sums, but we keep them low to enable all to join. Our records are not infallible, so do contact Graham on 07802 761 548 or ggfranklin3@aol.com if you have a query.
However you pay, we are most grateful for your support, as it gives us clout in all our dealings with the Borough and other bodies.
Rhoddy Wood
[Spring 2021]
Monica Castelino Confirmed as Parks Manager
I am delighted to confirm Monica Castelino's very well deserved appointment as Parks Manager for the borough. Many might not have realised that she was working as interim Parks Manager.
Monica has worked in the borough since 2007 in a variety of roles in the Parks team. During this time she has consistently displayed a calm and practical can-do attitude and a real commitment to the parks. She also works extremely well with all the different stakeholders both inside and outside the parks. Most recently she has brought all those skills and knowledge to bear in the re-procurement of our parks contract. We are extremely fortunate to have such a dedicated officer.
Councillor Emma Will
[Spring 2021]
Friends and Neighbours
The pandemic has been tough for retailers, and the businesses that are part of our discount offer scheme are having as tough a time as any. At the time of writing, restaurants are closed, but most of our participants are able to offer a take-away service. Miles & Miles respect advice on essential travel only, but cars can be booked on request. You can place orders on line for some of the businesses. Government advice may change before our summer newsletter reaches you. In the meantime, please visit websites, or ring to check what is on offer. Please do support these wonderful businesses in our community.
Artisan du Chocolat Tel: 0845 270 6696 www.artisanduchocolat.com
Chakra Restaurant Tel: 020 7229 2115 www.chakra.restaurant
Gallery 19 Tel: 020 7937 7222 www.gallery19.com
Havan Tel: 07813 707392 www.thehavan.com
Holiday Inn Hotel Health
Club & Spa Tel: 0844 770 2322 www.imaginespa.co.uk/kensington
Holland Park Café Tel: 020 7602 6156 www.cooksandpartners.co.uk/holland-park-cafe
Il Portico Tel: 020 7602 6262 www.ilportico.co.uk
Jeroboams fine food & wines Tel: 020 7727 9359 www.jeroboams.co.uk
/Jeroboams wine & 020 7348 0644
Lipp Interiors Tel: 020 7243 2432
Miles & Miles Car Rental Tel: 020 7591 0555 www.milesandmiles.co.uk
Rassells plant nursery Tel: 020 7937 0481 www.rassells.com
Romulo Café Tel: 020 3141 6390 www.romulocafe.co.uk
Sadaf Restaurant Tel: 020 7938 1111 www.sadaf-garden.co.uk
Threads & Co Tel: 020 3903 7272 www.threadsandco.co.uk
ULI Restaurant Tel: 020 3141 5878 www.ulilondon.com
[Spring 2021]
idverde Wins Parks Contract
The parks management contract, held by idverde expires on 31 March 2021. The Council was required to put the contract out to tender, and followed a rigorous procurement process that invited and assessed competitive tenders. This twelve-month process was designed to establish which contractor offered the best parks maintenance service, both in terms of quality and value for money. The contract covers 90 parks and green spaces in the borough and is for horticultural work, grass cutting, path sweeping, general cleaning, sports bookings and a number of other services.
The procurement process started with public consultation, to which some of The Friends contributed, and proceeded through three stages, with bidders' detailed responses to the brief at each stage. The procurement team read some 600+ pages of documents per stage. This team was made up of specialists in relevant disciplines: parks management, law, insurance, sustainability, finance, communications and procurement, as well as a representative of The Friends on behalf of borough park users. Eunomia, specialists in procurement, provided independent oversight to ensure the whole exercise was robust and fair.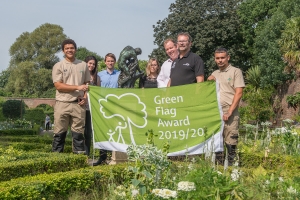 Tessa Lee of Eunomia reported that: "The procurement process, using the Competitive Procedure with Negotiation procedure, is one of the most robust and detailed we have run for a grounds maintenance contract. Monica Castelino (RBKC Parks Manager) and the team put in a huge amount of work ensuring the initial documents were well written and the requirements conveyed clearly to bidders. During the process the team answered all clarification questions from bidders quickly and clearly, which was crucial to keeping to the tight timescales of the project. After the initial stages, the project board decided, after careful consideration, to continue to negotiation and the final tender stage. This decision proved very successful as the requirements and priorities of the Authority were clearly outlined to bidders in meetings leading to large improvements in the final tenders. In summary, the whole RBKC team has worked extremely hard the past year, in tough circumstances, to ensure the best solution for the Authority. We have very much enjoyed working with such a dedicated and hardworking team and wish RBKC and the Friends all the best for the new contract."
Bids were anonymous in the documentation and were scored against 21 criteria. Of all the competitive tenders, idverde had the highest score and have been awarded the contract. This decision was approved by the RBKC Leadership Team on 9 December 2020. It was also agreed that idverde should renew its various leases in connection with the parks, including the lease for the plant nursery in Holland Park.
What happens next? Well, it is not just more of the same. The new contract includes greater emphasis on horticulture, social value, carbon reduction, biodiversity, community engagement and technology. Different performance standards have been set to provide more clarity for all. There will be an additional post for a training and community manager and an enhanced volunteer programme. The new contract starts on 1 April 2021.
Ben Binnell, idverde's contract director said: 'We are delighted to have been awarded the Kensington and Chelsea contract. It was the toughest bid that I have been involved with and I look forward to many years of protecting the green assets on behalf of Kensington and Chelsea residents and appropriately improving the biodiversity and maintenance of these.'
Jennie Kettlewell
Photo by idverde
[Spring 2021]
The Future of our Woodlands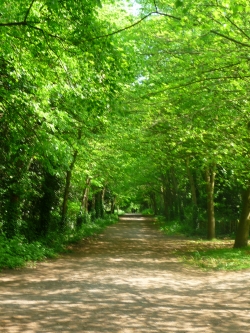 Albert Schweitzer said: 'Never say there is nothing beautiful in the world anymore. There is always something to make you wonder, in the shape of a tree, the trembling of a leaf.' So many of us value the wonderful trees we have in Holland Park, from the leafy shade of the woodlands, to the exotic species dotted all over the park. We enjoy them now, and must make a huge effort to ensure future generations have the same privilege.
Our woodlands are not ancient, were all planted at the same time, and are 'wearing out' at the same time. It is simplistic to say we should just plant more trees. We need an informed plan to guide us on what to remove, what to plant and where to plant it, so that we retain viable habitats for the many species of plants, small mammals, birds, butterflies, insects and amphibians we enjoy in the park. We also need to think about trees that will survive and thrive in our changing, yo-yo climate.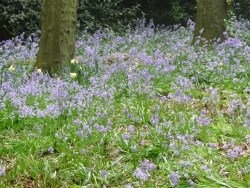 The first stage is to carry out a thorough assessment of the ecological value of the woodland habitat, within each woodland enclosure, and for the woodlands as a whole. The Friends have agreed to fund a detailed survey of habitat classification, structure and composition, including a drone survey. Where possible, findings will be classified in accordance with National Vegetation types, with consideration of suitability to support appropriate flora and fauna. The project will take place this spring, because it is the best time to establish what 'indicator' plants are present, i.e. plants that help determine what will grow best in the area. It is also the best time to discover invasive species that might hijack the habitat if not dealt with. Together with updated species surveys (bird, bat, wildflower etc.), this will provide a sound context for the next stage, a Woodland Management Plan, which gives a structured guide to planning and organising the sustainable management of our woodlands.
That would be a significant achievement and is a good reason for The Friends to fund the project.
Did you know?
During the pandemic trees apparently grew faster than usual. Scientists think it might be something to do with lower pollution levels due to reduced traffic during the Covid-19 lockdown. Little hard information is available, but no doubt someone will follow up with research, and we hope to hear more.
Text & photos Jennie Kettlewell
[Spring 2021]
Parks Police
The Friends would like to express our heartfelt thanks to the Parks Police for working even harder than usual to help keep park visitors safe during the challenge of the pandemic. You are appreciated.
Should you need or wish to contact the Parks Police for any reason concerning Holland Park, please call them on 0300 365 5101.
2020
Defibrillators in Holland Park
We have been asked to let our members know about the availability of defibrillators in Holland Park. All Parks Police vehicles are equipped with a defibrillator and there is also one in the Holland Park Police Office in the Stable Yard. If you find someone in Holland Park in need of a defibrillator (not breathing or appears to be suffering a heart attack), please call 999. This will alert the London Ambulance Service. Any call made to the London Ambulance Service concerning someone in our parks and open spaces is automatically forwarded to the Parks Police duty phone. This is to ensure the fastest possible response until an ambulance arrives.
[Winter 2020]