Annual General Meeting 2018: Report
The Friends' AGM was held on 18 April 2018. President, Sir Angus Stirling, welcomed those present and the minutes of the 2017 meeting were approved.
The Trustees' Report for 2017 was presented by Andy Walker, the main points being:
•    The year had been one of messy works in the park, being improvements to the historic buildings.
•    The enhancement of the Holland House terrace, approach road and the Café Yard had started in September.
•    Rainwater management work had been carried out in the west of the park.
•    The Friends had contributed to the Council's Holland Park Conservation Area Appraisal, which describes the essence of the park as a statement of what aspects need to be protected and maintained.
•    Grants to the park included replanting of the Mediterranean Bed in the Dutch Garden, the second stage of the proactive tree health programme, Ecology Centre walks and talks, and a map of Holland Park.
Silvi Spassov gave the Treasurer's Report for 2017. The balance for the financial year 2017 was £97,795: up on 2016 due to funding expenditure projects being postponed to 2018 and to exceptionally high income from donations (£86,470). Events income had been £19,315 in 2017, compared with £12,160 in 2016, largely due to healthy sales at our art exhibition. The events surplus had risen from £3,529 in 2016 to £4,226 in 2017. The full accounts had been circulated in the spring 2018 newsletter.
The Secretary's Report was delivered by Rhoddy Wood, who said that membership stood at 1,016, higher than the same time last year. Payment via The Friends' website was helping to increase membership, though the number of members signing up for Gift Aid had declined. Gift Aid was important as it resulted in an additional 25% tax refund on the cost of each subscription or donation paid by a signed-up member. Mrs Wood thanked all those who kindly help deliver the newsletters.
Election of the trustees. Silvi Spassov was elected as a trustee. All other trustees had agreed to stand again and were duly re-elected.
Election of the independent examiner. Roger Foreman was re-elected.
Chairman's Outlook for 2018. Chairman, Jennie Kettlewell, emphasised that, after a year of messy works, the built assets of the park are now in better shape, with the exception of Grade-1-listed Holland House. Opera Holland Park had obtained consent for their buildings for the next three years. Written into that consent was the fact that OHP would work with The Friends and other stakeholders to see what could be done to shorten the time taken for the ancillary buildings to be cleared, and for the terrace to be open to the public earlier than in former years. She thanked Nicholas Hopkins for his tireless work to enable payment through The Friends' website, the trustees for the staggering amount they achieved each year, and Sir Angus Stirling for his wise advice and reassurance. There were some interesting questions from members, which we are making sure we address.
Much has happened since the AGM in mid-April; see News Update below.
[July 2018]
News Update
as at 11 June 2018
Holland House Terrace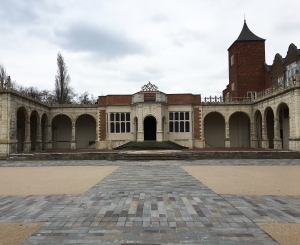 Contractors, Blakedown, formally handed the newly resplendent Holland House terrace back the Council at 9.30 a.m. on 19 March. An hour later Opera Holland Park started work on their build for this year's season. It is a great credit to Camlin Lonsdale and Blakedown that they were only one week later than the scheduled date, considering the real challenges found under the ground they were paving. We will see the full beauty of the new landscaping after the opera season. Thanks are due to Opera Holland Park for shaving time off the deconstruct time last autumn and a speedier build this spring. The intention is that there will be a ticketed celebration on the terrace for members, stakeholders, Council officers and elected members, and of course those who carried out this large project. We think this is likely to be in the early evening on Tuesday, 25 September. Watch the website and noticeboards in the park for details.
Photo by Camlin Lonsdale
Café Yard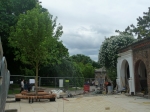 The café's south terrace is now open and attracting custom. By the time you read this, the work on the full extent of the café's outside area should be completed, and the capacity will have increased from 80 to 170 seats. This has been partly achieved by opening up the area under the western arches, previously used for storage. The café will look wonderful but a little stark to begin with, and we need to green it up as appropriate for a park.
Photo by Jennie Kettlewell
Nature Play Area
You might have noticed the flourishing living willow classroom that has appeared in the Nature Play Area just to the north of the Ecology Centre. This is part of a wider project being worked on by the Ecology team and The Friends. Some years ago, this area was given free access as a children's play area, but its popularity was its undoing, and the result was compaction, loss of ground cover, loss of habitat and damaged trees. It had to be closed to the public and has not re-opened. The intention is to have limited and supervised access by a single gate and path to the willow classroom. Woodland management work will produce a healthy canopy layer, an understorey of shrubs and green ground cover as an attractive and appropriate environment for children to learn about nature. The Friends will work with Ecology to re-apply to the Mayor's Greener City Fund, with the fund opening for applications from July 2018. Funds are needed to cover the cost of volunteer work, materials and planting. We have received feedback on why the 2017 bid was unsuccessful, and have been advised to limit future access to avoid re-compaction and to guard against 'woodland gardening' i.e. pretty flowers that are not in keeping with natural woodland.
Holland House Conservation
Conservation of Holland House remains well overdue, considering the schedule set out in the Conservation Management Plan for the Grade-1-listed building. We heard that a condition report was sent to Historic England who were considering their response to the Council's proposals for essential work. It would be of great concern if this grand listed building did not live up to its new environment.
Adventure Playground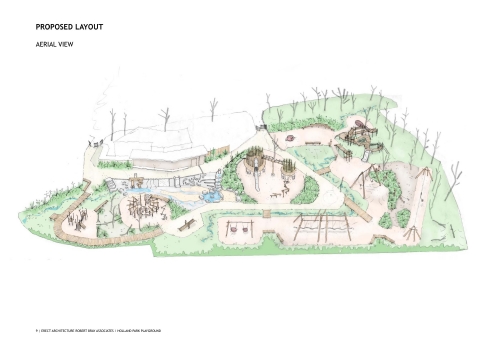 This playground is well used and popular, with the result that it is suffering from the wear and tear of many years. Plans for a much improved playground, including draining works, have been agreed under a Certificate of Lawful Development, which did not require consultation. Planning consent was, however, required for the equipment over four metres in height, and a decision is due by 26 June. The Friends' concern was the application to fell 12 trees. After discussion between RBKC Park Management, a Council tree officer and trustees, it was established that several of these trees were poor specimens that needed to be removed on safety grounds, and some others would jeopardise the drainage needed to prevent the playground from flooding. The contention was about three horse chestnuts, two of which were not especially good specimens and not expected to last more than ten years. Given that this costly renovation is expected to last at least 20-25 years, it has reluctantly been decided to achieve the best possible playground and drainage solution, and replace the chestnuts with trees that will last the course.
Photo by Erect Architecture Robert Bray Associates
Tree donated by The Friends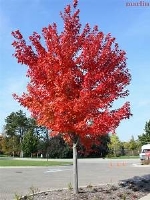 An excellent start to the greening up of the café area is the new Acer freemanii 'Autumn Blaze', donated by The Friends and looking splendid in the Café Yard. This semi-mature specimen was planted on 25 May by Cllr David Lindsay (Lead Member for Healthy City Living) and chairman of The Friends, Jennie Kettlewell. To ensure it thrives in this paved area, there is an impressive 2-cubic-metre structure under the ground, which will allow the air and water to reach the roots, without compaction.
Belvedere tower
We are surprised that this renovation work is not yet completed. In order to improve the temporary appearance for those hiring the Belvedere and Orangery, we understand that the scaffolding will be covered with a scenic screen, depicting the tower beneath it.
Children's Guide to Exploring Holland Park
Children will love this new book packed with fabulous things to discover, interesting facts and lots of fun activities. At 36 pages, there is enough to keep kids occupied through the holidays and over many visits, so you do not have to think up ideas to occupy them. We were advised by children (6-10-year-olds) who told us what they really, really liked and what simply did not interest them; and we listened. If you have children, small relatives or friends with kids, do not deny them the chance to try out the word searches, spotting challenges, nature drawing, 'spot the difference' and dot-to-dot pictures.   Price £6.50 including postage.
Order online here.
New Offers for The Friends
Artisan du Chocolat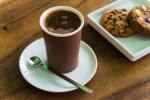 After founding the chocolatier business in 2000, Gerard Coleman is still hands-on in the production atelier so that he can focus full attention on finding the finest ingredients, and on quality, which is his passion. In the shops it is the aroma that first strikes you, then the wonderful display of irresistible chocolate. Go on, treat yourself! And do try their hot chocolate drink as you won't have experienced anything quite so indulgent before.
Offer: 25% discount on all in-store purchases.
Participating branches of Artisan du Chocolat are:
246 Kensington High Street, London, W8 6DN.  t. 020 7348 0381
81 Westbourne Grove, London W2 4UL.  t. 0845 270 6696 (option 2)
89 Lower Sloane Street, London SW1W 8DA. t. 0845 270 6996 (option 3)
www.artisanduchocolat.com
Jeroboams' new shop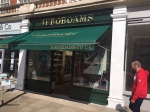 We are very pleased to announce that the newest branch of Jeroboams is the latest local business to join our Friends & Neighbours scheme. The store offers a wide choice of wines both classic and from lesser-known interesting producers. There is a selection of spirits, some of which you might not find easily elsewhere. Do visit soon and ask manager, Philippe Berthome, to suggest some summer drinking. They also provide glasses and ice, delivered with your drinks for your summer parties. Jeroboams fine food and wines in Holland Park has been with us since we launched our programme.
Offer: 10% discount on all purchases from both these shops, when no other promotional discounts apply. Certain products are excluded from the discount, at the discretion of the manager:
254 Kensington High Street, London W8 6ND.  t. 020 7348 0644.
96 Holland Park Ave, London W11 3RB. t. 020 7727 9359. www.jeroboams.co.uk
[July 2018]
Data Protection Privacy Statement,
including Key Procedures for Friends of Holland Park
Charity no 281348
Aims of this policy
The Friends of Holland Park (FHP) needs to keep certain information about its members in order to distribute its quarterly newsletter and to contact members about events and other matters concerning The Friends.
The charity is committed to ensuring any personal data will be dealt with in line with the Data Protection Act 1998, as amended 2003 and the General Data Protection Law, to become operative from May 2018.
To comply with the law, personal information will be collected and used fairly, stored safely and not disclosed to any other person unlawfully.
This document highlights key data protection procedures within the organisation. The aim of these procedures is to ensure that everyone handling personal data is fully aware of the requirements and acts in accordance with data protection law.
This Privacy Statement defines the trustees and any other persons using data connected with the business of the charity.
The type of personal data we hold
•    Contact details of members, who have completed a membership application form. Needed for distribution of newsletter.
•    Contact details of council officers and elected members for the day-to-day running of the charity. These can be identified by the sortable database code.
•    Contact details of suppliers.
•    Contact details of those members who have agreed to hand deliver the newsletter and the areas in which they deliver. Needed to produce delivery schedules.
•    Each entry shows whether or not a member is registered for Gift Aid, so that we can make an annual return to HMRC.
Who holds the data?
The Secretary is the controller of the database. Other FHP Trustees who may process personal information are:
•    The Chairman
•    The Treasurer and Assistant Treasurer
•    The Events Organiser.
The information is not shared with other parties, with the exception of the Independent Examiner and HMRC in the case of Gift Aid data.
Names and addresses, in hard copy form, are given to newsletter deliverers so they can hand deliver to the correct address.
Personal information is kept in the following forms:
•    Paper details kept by the Treasurer, Secretary and Chairman, securely filed.
•    Digital database of members kept by the Secretary and circulated, in encrypted form, to the Treasurer, Assistant Treasurer, Chairman, and Events Organiser as necessary.
•    Digital Gift Aid records kept by the Treasurer and sent to Independent Examiner, in encrypted form, for filing with HMRC.
•    Digital records from Paypal account showing receipts.
Security of data
Each trustee that holds member data has confirmed in writing that their systems are secure:
•    All computers are password protected with a secure password
•    All emailed records are encrypted.
Deletion of data
•    The Friends of Holland Park Bank statements and Gift Aid reports are kept for reference and are regularly referred to.
•    The current member database, used for newsletter distribution, is cleaned every September. Members who have not paid the current year's subscription are left on the database until 31 December and then removed, as they are no longer deemed to be members.
•    Previous member databases are a useful source of reference and are regularly referred to e.g. when they claim their membership has only recently lapsed. These databases are retained for seven years but for reference only and not for contact.
•    Analysis of payments by cheque and cash are kept for seven years.
Right to access data
Each member has the right to see a copy of the data held about them and the right to correct it if it is found to be incorrect. Contact The Secretary at: rhoddy.wood@thefriendsofhollandpark.org.
Risk Assessment
The trustees of The Friends of Holland Park operate a Risk Assessment process which is reviewed annually. In the unlikely event of a break of data protection, the process would be to:
•    Inform the Information Commissioner's Office (ICO)
•    Inform those whose data has been compromised
•    Amend the process which has caused the breach.
24 May 2018
Payments via the FHP website
You are now able to make payments to The Friends of Holland Park directly from this website. Payments may be made for new membership, renewing membership, event tickets, art exhibition entries and merchandise.
Payment is made through PayPal, but you are not required to have a PayPal account; you can make payment from your debit or credit card.
It is no longer possible to download an order form from this website and pay by cheque. We apologise if this is an inconvenience for you, but it makes good sense for The Friends administratively. Paid-up members will still receive an order form with their quarterly newsletters.
If you have any problems, please contact Rhoddy Wood on 020 7602 0304 or Rhoddy.wood@virgin.net.
[January 2018]
Defibrillators in Holland Park
We have been asked to let our members know about the availability of defibrillators in Holland Park. All Parks Police vehicles are equipped with a defibrillator and there is also one in the Holland Park Police Office in the Stable Yard. If you find someone in Holland Park in need of a defibrillator (not breathing or appears to be suffering a heart attack), please call 999. This will alert the London Ambulance Service. Any call made to the London Ambulance Service concerning someone in our parks and open spaces, is automatically forwarded to the Parks Police duty phone. This is to ensure the fastest possible response until an ambulance arrives.
[Spring 2018]


Membership Cards and Subscriptions
Those of you who use your membership cards to receive discounts when shopping with some of our Friends & Neighbours, might have noticed that the end of February is when your card expires. A new green one is enclosed with your Spring newsletter if our records show you as having paid your subscription for 2018. All subscriptions were due on 1 January except for those who joined after 1 September 2017. If we think you have not yet paid, there will be no membership card and your enclosed order form will be green, with a standing order form on the back. Over 600 of our members use standing orders, as it means they never have to remember again, and it helps our treasurer too.
There is now a further choice of method to pay which is to pay online via this website, paying with your credit/debit card or by PayPal. This avoids the hassle and expense of finding an envelope, cheque and stamp, but cannot be combined with a standing order. You can, however, click on a very obvious yellow button if you want to add a further donation, as some of our members do.
Current minimum rates are £12 or £9 for the over 65s, with joint subscriptions available for two people at the same address for £20, or £15 where both are over 65. You will agree these are very modest sums, but we keep them low to enable all to join.
Our records are not infallible, so do contact Rhoddy on 020 7602 0304 or rhoddy.wood@virgin.net if you have a query.
However you pay, we are most grateful for your support as it gives us clout in all our dealing with the Borough and other bodies.
[Spring 2018]
Lycetts Insurance Broker Offers Discount to Members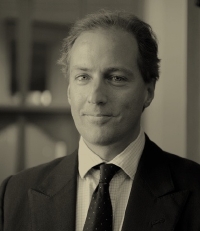 Lycetts is different from most insurance brokers in that it is owned by a charity (Allchurches Trust), and all their available profits are invested in the community. They have been advising property owners for nearly 60 years, using the experience gained to build a deep understanding of risk, and to create insurance products that reflect the needs of their clients.
The firm has offered members of The Friends a 10% discount off the premium for household policies under 'The Friends of Holland Park Household Insurance Scheme'. In addition, the firm will make a small charitable donation to The Friends each year.

This contact came about by a chance meeting at a reception given by the Tregothnan Tea Company. After introductions and a short conversation about each of our organisations, we both realised that Lycetts already arrange liability insurance for The Friends. We went on to discuss mutual interests and the discount offer. Jonathan Lloyd not only knows our park but was born in a house almost next to it. If you are interested, please contact Jonathan at Lycetts for a quote when your household insurance comes up for renewal.

Contact: Jonathan Lloyd at Lycetts' London Office: Tel 020 7398 1660 or jonathan.lloyd@lycetts.co.uk.  

[Spring 2018]

ULI joins Friends & Neighbours
We are very pleased to announce that the restaurant ULI, in Notting Hill Gate, is the latest local business to join our Friends & Neighbours scheme.
The restaurant serves carefully selected dishes from Asia, prepared using traditional Chinese, Thai, Malay and Singaporean disciplines. They believe that Asian food should be clean, fresh and healthy. Originally established on All Saints Road in 1997, ULI became a firm favourite among locals and critics alike. At its new home on Ladbroke Road, its pretty terrace forms part of the vibrant local scene. ULI serves lunch and dinner all week as well as an extensive range of snacks, cocktails and beverages. Please do visit them soon.
5 Ladbroke Road, London, W11 3PA. t. 020 3141 5878. www.ulilondon.com
Offer: 10% discount on meals in the restaurant.
[Spring 2018]
Tree news
Tree removal and remedial work
During a recent tree survey in the park, several old trees were found to be declining and likely to become dangerous. The council is carrying out a programme of felling, or removal of potentially dangerous branches.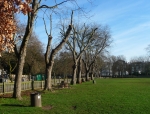 You will have noticed the removal of a number of the Red Horse Chestnut trees that run in a line across the top of the sports field, and drastic pruning of the remainder. This hybrid species typically has a shorter life span than the more common Horse Chestnut and is prone to debilitating pests and diseases such as bleeding canker and a condition known as bud proliferation which eventually results in rot, making the tree more likely to snap. We are sorry to lose them, but it offers the opportunity for interesting new trees, chosen for their appropriateness to the site, to be planted next winter.
This work is an essential part of the long-term strategy, to ensure the park's trees are healthy and flourish, so that we leave a beautiful green landscape for generations to come.
Proactive tree health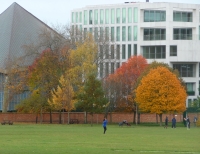 Proactive treatment is better than dealing with declining trees. The Friends funded a tree health care programme for the second year running, which saw Bartlett Tree Experts de-compact soil around selected trees, and give each a comforting blanket of mulch. De-compacting helps the roots to grow and 'breathe', and the mulch feeds the roots: the equivalent of a person looking after their health by eating a nutritious diet. In December 2017, 15 trees in the Commonwealth Copse (the copse of trees at the bottom of the sports field right next to the Design Museum) were treated. Two spindly trees, which should never have been planted where they were, have been removed, and the remainder have been air-spaded and mulched. Bartletts told us we would notice the improved health, and indeed we could when we revisited the trees treated in 2016. The leaves of the big London Plane outside the Orangery, the Walnut near to it and the two Coral Ash trees on the Belvedere lawn all showed reduced signs of disease. The very rare Birch-leaved Pear near the Phillimore Walk entrance and the Headache tree near tennis courts 1 and 2 had noticeably flourishing crowns of leaves. All very satisfying.
420 saplings from The Woodland Trust
The Friends worked with the Ecology team to bid for a parcel of 420 native saplings, all free, as part of the Woodland Trust's campaign to 'see a UK rich in native woods and trees, for people and wildlife'.  We have been granted the trees, which will arrive in early March and be planted in the woodlands.
Champion trees in Holland Park
In our winter issue we told you of the visit from David Alderman, Director of the Tree Register of the British Isles (TROBI). The result is a list of Holland Park's champion trees, exceptional for size, age, historical association or rarity. The list is published on TROBI's website and we hope to tell you more in our summer newsletter.
Text and photos: Jennie Kettlewell
[Spring 2018]

The Gates to the Holland House Terrace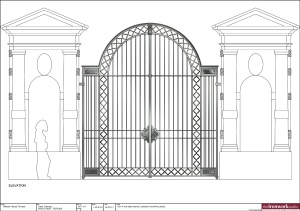 Between the gate piers, built by Nicholas Stone in 1629, are some rather underwhelming gates. They are not old or valuable, and the wood panels conceal the view of Holland House from the road below. With the promise of a splendid new terrace and restoration of the terrace wall topped with terracotta tiles, we could do better with new gates.
You might remember that Topp & Co., leaders in the craft of fine architectural metalwork, worked their magic on the park's Earls Court gates, which now look splendid. A successful collaboration between Camlin Lonsdale, who shaped the concepts and principles for the design, and Topp & Co., who brought their considerable expertise in architectural iron work, resulted in a design we like, and feel is fitting. The proposed gates are elegant but not regal and, while being a work of art on their own, will allow a clear view of Holland House.
The gates are bordered by 'barbed quatrefoils', which are the same shape as the terracotta tiles and much of the decoration on Holland House. The gate design and materials await planning and listed-building consent.
Your trustees feel strongly that the new gates must be worthy of the Grade-1-listed house, and that they should become part of the historical assets of the park. For these reasons, the trustees have agreed to contribute towards the cost.
Jennie Kettlewell
[Winter 2017]
Park Map
There was a request at our AGM for a map of Holland Park with all the places marked on it. We have produced one, and you can download it here. Please keep it; we hope you find it useful.
[Summer 2017]