News Update
Historic tile conservation
The tiles on the wall under the arches in front of the café have been beautifully conserved. Richard Rogers Conservation experts filled damaged areas, delicately repainted missing images and replaced the protective layer. The work has been funded by The Friends. The next stage is for a tile-by-tile assessment of the tiles along the walkway above the café arches. The detailed proposal then goes to RBKC Property and a council conservation officer for approval. It is just possible this work can be completed before the site is closed in mid-March for Opera Holland Park's 2020 season.
Photo courtesy of RRC.
Old tiled dairy
Restoration of the dairy building has been approved as part of the Holland House conservation work. Cracks will be repaired and damp ingress remedied. The Friends have been given the go-ahead to get a quote for conservation of the tiles. This is great progress.
Holland House conservation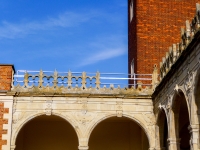 The main conservation proposal has been approved and is the result of a very detailed assessment and carefully thought through solutions. The Friends have been kept in the picture throughout. The hold-up is due to a discussion amongst conservation professionals about restoration or replacement of the fleur-de-lys balustrades. Time is getting tight for the work to be completed while the opera is off site during this winter.
Photo by Jennie Kettlewell
Parks police
The demerger of the parks police force (Royal Borough of Kensington and Chelsea/London Borough of Hammersmith and Fulham) has happened and, once again, we have a team that focuses on the parks in this borough. They know Holland Park well, and it is already evident that they are able to spend more time preventing problems. Their very presence, patrolling the park, acts as a deterrent to anyone with anti-social intentions. We are delighted that their base remains in Holland Park's Stable Yard.
Erosion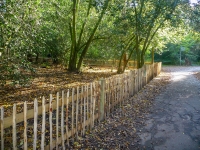 Protective fencing has been installed around the trees to the north of the Sun Trap Lawn. There used to be chestnut fencing there, but it disintegrated and, as a consequence, cut-through paths are compacting the tree roots, wearing away the under storey plants and creating bare paths across the lawn itself. Fencing off the area for a period will allow the vegetation to recover. The area was indeed very compacted.  Scott & Louis, who hammered in the fence posts, had a real job to get the posts into the concrete-hard ground.
Photo by Jennie Kettlewell
Jennie Kettlewell
[November 2019]
Monica Castelino appointed to Parks Manager role
Monica has been promoted to the important role of RBKC Parks Manager. The previous incumbent, Ian Ross, has left to look after Lambeth's parks. The Parks Manager role involves vision for, and management of some 90 parks, green spaces and cemeteries in the Royal Borough. That is a pretty significant portfolio.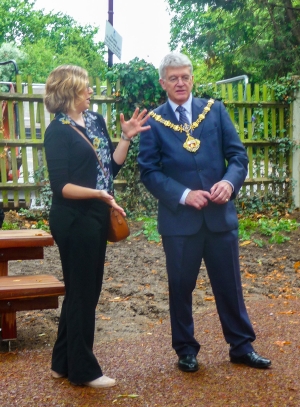 The Friends are delighted at Monica's appointment because she knows Holland Park well, having been in previous park-related posts in the Borough for over 12 years, and already works with most of the stakeholders. The best news is that she intends to take a strategic approach to the challenges of our busy park, and she is already scoping projects that will make a positive difference. An example is the resurfacing of the road between the Ilchester and Duchess of Bedford Gates, which will be edged with kerb stones, and all service cables will be bundled into a buried conduit for easy access when repairs are necessary. Alongside this, the dogs-off-lead area will be aerated and hydro-seeded with strong grass so that dogs have something better than dust to run on. Removal of the ailing red chestnut trees along the north sports field fence will let in light that encourages the grass to grow. No small project then, and dealt with comprehensively.
Monica has other projects on the boil, but please be patient. She has a wide-ranging role, but no support until the recruitment process is complete.
The Friends will give her as much help as we can, which does not mean we always have to agree.
As a communications professional, with considerable experience in strategic planning for parks, Monica will be instrumental in keeping our park in good shape for those who visit it, while helping to ensure it also gives pleasure to future generations. She comments: 'Having grown up with Holland Park as my local park, to now be responsible for caring for it and protecting its future, is both nerve-wracking and exciting, and it means a lot to me that the Friends support my appointment to this role. My focus is going to be on strategy and future planning, but most of all communicating our processes and how we work, making how we operate as transparent as possible so that park users understand why we do what we do and the long-term benefits for people, wildlife and the environment.'
Text and photo of Monica Castelino briefing Mayor Cllr Will Pascal at the opening of the Adventure Playground, by Jennie Kettlewell.
News update
As at September 2019
Old tiled dairy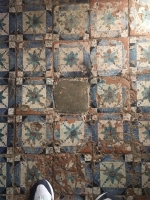 The Friends have worked with the Council to install protection for these historic tiles. Even protection has to be carried out under the guidance of a conservation architect. The Council have been most helpful, and we hope that, in time, the fabric of the structure can be restored, and the tiles and stone shelves conserved. The room is currently being used as a café storeroom, and the tiles are being irreparably worn away.
Photo: Rebecca Byrne
Tile conservation
Conservation work was delayed but is now due to start in late September on the tiles under the arches outside the café.
Adventure playground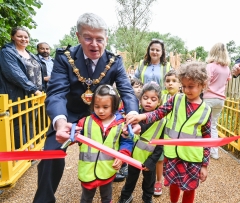 The newly built playground was opened on Friday 19 July, to the delight of a group of children waiting impatiently at the gate. The minute the Mayor of the Royal Borough of Kensington and Chelsea, Cllr Will Pascall, cut the tape, he had to stand aside to let the avalanche of little folk rush in, all excited to try out the new equipment.
Before the official tape-cutting, the formal opening party had their turn. Not for a long time have I seen so many grown-ups have such fun. The Mayor on the see-saw, councillors on the zip wire, and a whole lot of us on the 'viper snake swing'. Shame we had to hand it over to the rightful 'owners': the children.
The pathways and bridge are fully accessible, with a wheelchair-accessible roundabout and accessible swings. The design was created in accordance with the response from a public consultation. This is a great result from much hard work by the RBKC officers involved.
Photo by courtesy of RBKC.
Holland House conservation
We have not heard anything officially, but gather that the proposed conservation work on the house is close to approval. We await a start date as there is only a small window of opportunity for the work to be done while the opera is off site during the winter.
Erosion
You will notice that wire fences have been erected to the west of the North Lawn and also in the south east corner. These are temporary and intended to prevent further erosion and tree compaction until 'impenetrable' planting can provide protection. At that point the fences will be removed.
Protective fencing has also been agreed around the trees to the north of the Sun Trap Lawn. There used to be chestnut fencing there, but it was removed and, as a consequence, cut-through paths are compacting the tree roots, wearing away the under-storey plants, and creating bare paths across the lawn itself.
Jennie Kettlewell
[Autumn 2019]

Liz Merica Joins as a Trustee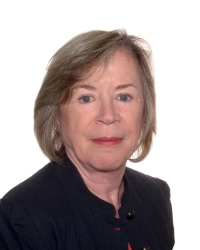 Liz responded to the request for help in our summer newsletter, as did several others. We are delighted that she has agreed to join as a trustee to provide assistance to Membership Secretary, Rhoddy Wood, principally by managing the member database. Rhoddy will retain the title of Secretary, which is effectively Membership Secretary, and Liz will become Membership Administrator.
You all know how hard Rhoddy works, and it is appropriate now to be a little less heavy on her time, while retaining the benefit of her experience and expertise on the committee.
Liz told us she has lived within walking distance of Holland Park for many years and comes to the park often. She is a member and is familiar with what the Friends do to protect and enhance the park, which she regards as very special. Her career has been in international banking, so she is well aware of what it means to work in the context of regulators, as we do with the Charity Commission. She said: 'I joined the Friends because I thought I should give something back, and it is in that spirit that I am offering to help.' Liz has a wealth of useful experience to bring to the committee, including marketing, product development and IT systems.
Jennie Kettlewell
[Autumn 2019]

Jelly
As always we wait to see what this year's harvest brings. I have just visited a friend whose orchard grass was strewn with vast cooking apples, so the omens are good. But apple trees are as individual as people, and whether I will find the small sour crab apples that produce the tangiest jelly, I will not know until I go searching. Also, last year for the first time, two separate friends gave me quinces of different sizes and shapes, but both made jelly that was commended by those who tasted it. I have not yet heard from those people as I write at the beginning of September, but hope I will. So, if you are interested in crab apple or quince jelly, give me a call on 020 7602 0304 or email rhoddy.wood@virgin.net when you read this, and I will be able to tell you the position.
Rhoddy Wood
[Autumn 2019]

Green flag Award for idverde
Congratulations to idverde who have, once again, won the Green Flag award for Holland Park. Andrew Kauffman, head of idverde's Greenspace Development Team says: 'The achievement of a Green Flag is so much more than a key performance indicator; a Green Flag demonstrates that a community really cares about their park and provides a visible symbol of its value to the community.'
Photo: idverde
[Autumn 2019]
Friends & Neighbours Discount Scheme
New!  Havan
Havan is an ethical lifestyle boutique and tea bar. It is a delightful shop full of treasures for the person and the home: cosmetics and toiletries, teas and foods from around the world, handbags and jewellery made in a studio below the shop. The tea bar offers drinks from family-run tea farms in China and Japan, the speciality being Matcha. Everything is ethically sourced. The owners are very friendly and will happily show you round the shop and tell you about what is on the shelves.  Offer: 10% off purchases from the shop, excluding bespoke jewellery and hats.
262 Kensington High Street, London W8 6ND. t. 07813 707392. www.thehavan.com
[Autumn 2019]
The Iris Garden
A bed full of tall bearded irises in clumps of different colours is a glorious sight. We had such in The Iris Garden in the 1980s and for many years previously. When the central fountain decayed and was replaced with William Pye's in 1999, it was named 'Siberica' even though Iris siberica is different and smaller than the bearded irises. (Iris siberica  can be seen in the Kyoto Garden.) The name 'Siberica' is inscribed in the paving by the fountain, thus confirming the area as 'The Iris Garden'.
There came growing pressure to replace the irises with something that had interest for more than three weeks in the year. Most other London gardens replaced their iris beds so that ours gained extra praise for its rarity, but also increased pressure to follow the trend. The Friends fought hard to keep our irises, but eventually were forced into a compromise that the bearded irises should be interspersed with others that were repeat flowering or flowered in different months. The result, in this author's opinion, was never very impressive. Instead of one spectacular burst of flower we had small patches of flower throughout a longer season.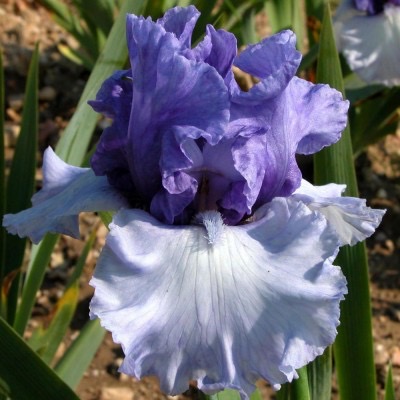 Bearded irises need their corms to lie along the surface of the ground so that they get a good baking after they have flowered and the leaves have been partly cut back for tidiness and to let the sun in.  It was the 'uninterestingness' of this between June and April that fuelled the pressure for replacement. It is also work intensive because the bare ground needs to be kept scrupulously clean. In the present climate of cut backs this did not happen, and the beds got invaded with weeds, and especially Oxalis corniculata, Creeping Woodsorrel. This is the plant with tiny red clover-like leaves and tiny yellow flowers. It is not unattractive but is known throughout the world as being difficult to control because it has creeping stems which root at the nodes, fruit that explodes when ripe, and any piece of root or stem left in the soil will sprout. It gets into cracks between paving from where it is impossible to pull it out. Total weed killers or flame weeding cannot be used where there are desirable plants. The result of the Oxalis invasion was that the iris beds out of flower became not merely uninteresting but unsightly.
So Owen, the new head gardener, was given the task of designing a new planting scheme which would have some colour from March to October and would always have something green, would be easy to maintain and would keep some irises as a historical reference. He has chosen to do this by using a mixture of shrubs and herbaceous plants to a definite colour scheme of white, blue and purple to form ground cover (which Oxalis cannot tolerate), except for swathes of irises to give strong colour when in flower. These need to be planted later in the season, so when this article was written (late May) the sites for the irises were still bare strips. We will have to wait until May 2020 to admire the irises in flower when several different cultivars, all in varying blue tones, will resemble a river running through dappled sun and shade.
The rest of the planting concentrates on shifting colour among anchor points. It features some evergreen shrubs such as the Osmanthus burkwoodii used to form a hedge which flowers sweetly in spring and will always give form and definition to the garden. The little trees are Amelanchier lamarkii, June Berry, which will be covered in white blossom in spring and have leaves that turn scarlet in autumn. Over time both will need to be pruned appropriately.
So, once established, we should have a garden that has interest throughout the year, has clear structure and is relatively easy to maintain. And we will still have irises: blue ones similar to the ones in the photographs.
Rhoddy Wood
[Summer 2019]
idverde Wins Gold at Chelsea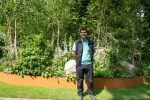 Holland Park's excellent contract garden team work for idverde; you will have seen the logo on their shirts. Their sister division, idverde landscaping, won a gold at this year's Chelsea Flower Show for their 'Family Monster Garden' in the Artisan category. Not only is that a great achievement, given tough competition, but it gave our Holland Park apprentice gardeners (Zach Hermann, Henry Murphy and Saul Heath) a chance to experience building a show garden for Chelsea: hectic, but thrilling.
I was told about the gold medal by enthusiastic apprentices and gardeners, who are justly proud to be associated with such well publicised success. Apparently, Prince William's visit to the garden was featured on television.
Well done, idverde.
Jennie Kettlewell
Photo of Zach Hermann in front of 'Family Monster Garden' by idverde.
[Summer 2019]
New Jigsaw - Winter Fun in Holland Park
Our new jigsaw features Catherine Masterman's watercolour of Holland House viewed from beside the new cafe layout.
Premium quality, laser-cut, 250 piece wooden jigsaw featuring Wentworth's unique 'whimsy' pieces. 360mm x 250mm. Watercolour by Catherine Masterman reproduced by kind permission of Mountbatten Cards.
£23.50 including p&p.
(July 2019)

Seeking Volunteers
Your membership secretary, Rhoddy Wood, works extremely hard and covers many roles, including management of the members database, new and renewing member communications, fulfilment of orders for merchandise and tickets, keeping the park noticeboards up to date, distribution of the newsletter, and much, much more.
She would now value some assistance, and The Friends are looking for one or possibly two volunteers to help with two functions: database management and sending out tickets and merchandise in response to orders. Volunteers will be working at home on their own computer, which allows the tasks to be organised around other commitments. While not particularly onerous in terms of time, it requires computer literacy, attention to detail and an understanding of the work of The Friends. You do not need to be a current member.
If you are interested, please contact Rhoddy Wood (Secretary) on rhoddy.wood@virgin.net, or Jennie Kettlewell (Chairman) on jenniekettlewell@aol.com to explore options.
[Summer 2019]
Parks Police
In 2013, the Royal Borough of Kensington and Chelsea (RBKC) and the London Borough of Hammersmith and Fulham decided to merge some of their services, including the Parks Police. The decision has now been reversed and we will, once again, have our own RBKC Parks Police service. What difference will that make? It means that the team based in Holland Park, though fewer in number, will be able to focus more specifically on our Borough's parks.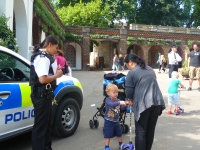 Inspector Mike Rumble retired in April this year, after 10 years as head of the Parks Police. We were sad to see him go and owe him many thanks for all he has achieved while in post. Before he left he spoke at The Friends' Winter Warmer in February and regaled us with tales of his notable police career and some of the unexpected events he had dealt with in the Borough's parks.
More recently, Police Sergeants Helen Tilbury and Chris Ellinson have shared leadership of the Parks Police team and they will now report directly to Rachel Merriman, Senior Officer in the RBKC Community Safety Service. Rachel is excited about her new role and will be based in the park one day a week. With on-going savings required across all Council services, RBKC is looking at how all of our uniformed presence is organised.
The Friends were invited to express their view to the Council, and emphasised that:
•    It is important that we keep a consistent team of police officers, so that we know them, they know us, and they understand how the park works.
•    We continue the very welcome regular communication with the team.
•    Police numbers be kept at a level that ensures that their presence in the park is evident.
•    The Parks Police headquarters should continue to be in Holland Park.
We understand that their 'home' will still be in Holland Park's Stable Yard and that we will retain the officers we know, and who know us and the park. The Friends very much appreciate the work that the Parks Police team does to keep Holland Park a safe place.
Text and photo: Jennie Kettlewell
[2019]
Guide to the Birds of Holland Park
A Very Big 'Thanks' to Tasso Leventis. The Friends have produced a guide to the birds of Holland Park. We could not have done this without the generous support of member Tasso Leventis. The guide was Tasso's idea, and he has taken most of the stunning photographs. He has also advised on the contents, based on his considerable knowledge of birds. Best of all, he has generously donated the full cost of producing the guide. Thank you Tasso.
This new guide has full colour photographs and descriptions of 50 bird species that you can either see in the park, or can identify as they fly over the area. There is an explanation of how to identify the birds and many of the photos show typical behaviours that will help with identification. You will also learn the best places to find these birds in the park and some tips on bird watching.
68 pages.  Price: £7.50 including P&P.
Photo by Tasso Leventis
Order online here.
[June 2019]
History Tours of the Park
In the spring newsletter we mentioned that we were looking into the possibility of professionally led tours, featuring the history and decorative art of Holland Park. We have made progress, have a short-list of very well qualified guides, and hope to have the first tours running in the autumn. These tours will be open to members and to the local community rather than being designed to draw more visitors from far and wide. Watch out for information on the Friends' notice boards in the park, and in the autumn newsletter.
[Summer 2019]
News Update
As at 11 February 2019

The tiles on the walkways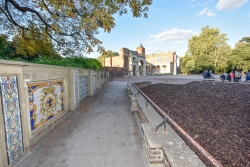 In 2004 The Friends made a significant contribution towards conservation of the Florentine tiles on the wall under the café arches and above, beside the higher walkway. The work has lasted well, but further conservation is needed, as these fine tiles are exposed to the elements. With Council permission the Friends have obtained estimates from experts with appropriate skills, and the Council has approved the choice of a company that carried out a detailed assessment of the condition of the tiles. We can only hope that progress with this work is not held up due to the greater conservation programme, which we were firmly told did not include the tiles. These two walkways, upper for fine weather and lower for rainy days, were created to link Holland House with the summer ballroom, on the orders of the 4th Lord Holland. The tiles were added between 1851 and 1858.

Armillary sphere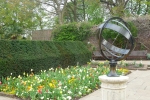 One of the id verde team noticed that the central rod (gnomon) was missing from the armillary sphere in the Dutch Garden. Without it, the device cannot show shadow and therefore time. The Friends obtained a quote from specialist Richard Rogers Conservation, who have been commissioned to manufacture a new gnomon. This is precision work and it needs to be measured up, fitted and burnished to match the original piece. This will be funded by The Friends.

Bees get their meadow
The beehives on top of the Stable Yard building roof are being relocated to Arboretum 1, behind the North Lawn, and east of Acer Walk. These hives and their occupants will continue to be managed by The London Beekeepers Association (LBKA), a voluntary organisation. LBKA will work with the Borough's Ecology Service to create and manage a pollinator meadow in Arboretum 1, stocked with appropriate wild flowers. In the short term the grass will be regularly cropped to reduce nutrients, so that the flowers take hold and the grass is weakened with a scattering of Yellow Rattle in the autumn, to assist with wild-flower meadow establishment. There will be one paving stone for each hive, but no additional infrastructure. To compensate for the cropped meadow, Arboretum 2, to the immediate west of Acer Walk, will undergo more sensitive management in 2019 for the pollinators to enjoy.

West woodland enclosure
This area of woodland, previously known as the Nature Play Area, was, for a time, open to children as a place to play in a natural environment. The sheer number of little feet compacted the soil and wore away the ground cover, so the space was closed to give the area a chance to recover. Nothing grew due to soil compaction and lack of light and it was obvious that a more radical solution was required to restore the wildlife habitat.
Leanne Brisland, Borough Head of Ecology, together with The Friends, developed a detailed restoration plan and submitted it to the Mayor's Fund for Greening London. The Fund has awarded the park £11,000 for implementation of the plan during 2019 and The Friends will add £3,000.

Photos: Tiled walkway, by Justin Thomas and the armillary sphere, by Jennie Kettlewell.
Jennie Kettlewell
[Spring 2019]

George Law
We are very sad to announce that one of our great supporters, George Law, died on Christmas Day after a long illness. Having recovered enough to attend our autumn talk, we were hoping that he would also be able to come to our Christmas carol concert, which he always looked forward to so much. But it was not to be.
He and his wife Anne joined The Friends in 1997 and regularly attended our functions and the AGM. George's experience in planning meant that he was able to advise us on many occasions, which was much appreciated.
You will recall that George often did write-ups for our various concerts, always with interesting information that he had researched. He was a great lover of classical music, and supported and followed the careers of young singers and musicians. He was a friend of Jonathan Dove who composed Flight, a thrilling opera performed by Opera Holland Park in 2015.
We will miss George's helpfulness and enthusiasm in all things Holland Park, and we offer our sincere condolences to his wife, Anne.

Joy Puritz
[Spring 2019]
Hope for 'At Risk' Holland House

It is both sad and shameful that Historic England find Holland House is in such a poor state of repair that they have put it on their At Risk Register from this January. It is now mandatory for RBKC to fulfil its duty to look after the Grade-1-listed asset they own, and they must appoint a conservation architect to plan and oversee the work. The Friends see it as good news that the house will at last be conserved.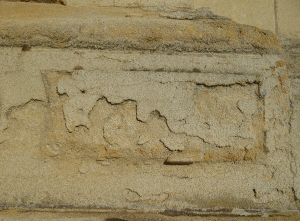 It is obvious to the naked eye that brick and stonework are damaged, the loose finials have been removed and stored, though we understand they have not been numbered as one would expect. The East Wing window frames are in bad order, showing signs of advanced decay. Blocked gutters and pigeon droppings have accelerated the damage.
The Council carried out a condition survey in 2018, but no planning/listed-building consent was applied for, although The Friends were told work was to commence in September 2018. It is unclear what work was entailed.
This grand old building is the reason the park exists, and one of the finest examples of Jacobean architecture in the UK. We look forward to hearing from the Council about progress on conservation plans. This is an opportunity.


Jennie Kettlewell
[Spring 2019]

Lycetts Insurance Brokers donates to Friends
Our 10%-discount arrangement with Lycetts Insurance Brokers has now been in place for a year, and it has worked for both them and for our members.

Lycetts is different from most insurance brokers in that it is owned by a charity (Allchurches Trust), and all their available profits are invested in the community. True to their ethos, we were delighted to receive their donation of £250, recognising household policies agreed with our members in 2018.

Jonathan Lloyd, head of Lycetts London office, not only knows Holland Park but was born in a house almost next to it. That link means our members can expect a truly personal service from the outset, which includes providing expert assistance and skilled negotiation with insurers in the event of a claim. Jonathan can be contacted on 020 7398 1660 or jonathan.lloyd@lycetts.co.uk.

[Spring 2019]


Defibrillators in Holland Park
We have been asked to let our members know about the availability of defibrillators in Holland Park. All Parks Police vehicles are equipped with a defibrillator and there is also one in the Holland Park Police Office in the Stable Yard. If you find someone in Holland Park in need of a defibrillator (not breathing or appears to be suffering a heart attack), please call 999. This will alert the London Ambulance Service. Any call made to the London Ambulance Service concerning someone in our parks and open spaces, is automatically forwarded to the Parks Police duty phone. This is to ensure the fastest possible response until an ambulance arrives.
[Spring 2018]


Park Map
There was a request at our AGM for a map of Holland Park with all the places marked on it. We have produced one, and you can download it here. Please keep it; we hope you find it useful.
[Summer 2017]