New Chairman elected

At The Friends' AGM on Wednesday 20 March Jennie Kettlewell was duly elected as our new chairman. See below for further details.
Annual General Meeting
The Annual General Meeting was held on 20 March 2013 in The Orangery.  The President, Sir Angus Stirling, welcomed all those present.  Apologies were accepted from Carron Batt, Mary Lambert and George Law.  The minutes of the previous AGM were approved.  Sir Angus explained that, following the resignation of Stewart Katz, Jennie Kettlewell would stand for the post of Chairman.  He thanked Nicholas Hopkins for the leadership he had shown during a difficult time without a Chairman.
Andy Walker delivered the report for 2012 on behalf of the trustees.  She said. The Friends had sponsored several Ecology Centre events, had donated two stone seats for chess players, hosted two talks and published two books - The Families of Holland House and The Pleasure Grounds of Holland House.  The 30th Art Exhibition under the new and creative management of Gordon French turned in a profit of £1,500.  Grateful thanks were conveyed to Ian Thompson, George Law and Janice Miles for their services to The Friends during the year.  Transition to unified teams across Kensington, Chelsea, Hammersmith and Fulham had affected both parks management and parks police.  The Friends' vigorous campaign of objection to application for the opera canopy to be in place all year, resulted in a withdrawal of the application.  Work progressed on the old Commonwealth Institute site and residential redevelopment will start shortly on the Holland Park School's old playground site.   The YHA relinquished its long-term lease on the park hostel and will lease the hostel from RBKC for another five years, after which the Borough will find a new use for it.
A set of 2012 accounts was available to all. Jennie Kettlewell, on behalf of the Treasurer, pointed out the unusually high assets due to a legacy of £25k, and the extraordinary item which was explained by Nicholas Hopkins as a bad debt by the maker of the wave benches.
The Secretary, Mrs Rhoddy Wood, presented her report, saying there were 807 paid up members and around 180 might still renew.  In spite of the 96 new members, a transient local population means we need to replace around 20% of the membership each year so she urged all to help to secure new members.  Mrs Wood thanked the regular newsletter deliverers who had saved FHP £2k in postage but asked for further volunteers.
All existing trustees were re-elected with the exception of Treasurer, Carron Batt, who no longer wished to stand due to frequent travel.  Mrs Batt was thanked for her work with The Friends and members were invited to put forward names of people suitable to fulfil the role of Treasurer. Jennie Kettlewell was elected as Chairman of The Friends.   Roger Foreman was elected as the Independent Examiner and Leslie Du Cane was thanked for the work he had done previously in that role.
Jennie Kettlewell presented the Chairman's Outlook for the coming year and said plans fell into three categories; building developments, funding and events. 

Building developments: As a result of The Friends' strong objection to the Opera's revised application for closure of the terrace for a full eight months, planning consent was reduced to 6½ months – a gratifying outcome, given the original request for 12 months. Performances may not start prior to 31 May or continue after 31 August; erection of the canopy may not start prior to 13 March.  The canopy and all materials must be off site and the site cleaned up by 30 September at latest. The decision is now made, final and we should accept it with dignity.  The Friends are liaising with the Council and the developers to establish and influence the impact of the new Design Museum on the site of the Commonwealth Institute, in particular, deployment of the Section 106 Agreement for £100k.  The new Ecology Centre is due for completion in early autumn.

Funding: For a second year Ecology Centre events will be funded by The Friends, which we know results in higher attendance.  Three funding projects are being progressed – repair or replacement of the non-functioning fountain outside the Stable Yard, carved gates for the Wildlife Enclosure designed to be attractive and improve security, and a replacement for the sculpture stolen from the Suntrap Garden. The committee is seeking significantly large projects for full or seed funding to ensure the Park benefits from the current high level of assets. The newsletter is now produced in full colour throughout in order to do justice to photographs and illustrations.

Events:  The art exhibition has been rejuvenated by Gordon French;  sponsorship from Killik & Co allowed additional promotion;  a display of pictures by Sir Hugh Casson celebrated a past president of The Friends and the smartened catalogue is now free to visitors.  Planned events include the annual Virtuosi concert, Pimm's party and Tallis Christmas concert.  The autumn talk will take account of members' preferences based on a survey.
There were questions and answers about the opera canopy, pigs in the park, cafeteria portions, pigeon feeding and dog mess.  Sir Angus Stirling closed the meeting at 8.40 p.m.

[Spring 2013]
New Chairman
We are pleased to tell you that the trustees have co-opted Jennie Kettlewell as chairman of the committee, following her expressed wish to stand for that office at the AGM on 20 March.
Jennie has lived in Holland Park for almost 30 years, been an FHP member for many years and served on the committee since September 2011. She is very familiar with the park, its assets and particularly its plants. Her FHP experience means she knows how the committee functions and what the role of chairman entails.
Her career has included:
• helping client organisations manage their public reputation
• working with boards on their strategic priorities and business plans
• most recently, working on a large culture change programme 
• and she is also experienced in individual and team development.
Much of her learning comes from being an interviewer for the Institute of Directors chartered director programme.  Through this, she builds knowledge of what organisations do that makes them successful.
Jennie told us she considered standing for chairman when the role was first vacant a year ago, but did not feel she then had sufficient understanding of The Friends' remit or the context in which it operates. She says she feels better fitted now, but is well aware she will continue to learn.
We are very grateful to her for standing and the trustees warmly commend her to you to be our new chairman. At the AGM we will propose Jennie as chairman and feel sure this will be endorsed by members.
[March 2013]
Holland House – a decision
At the RBKC Planning Committee meeting on 12 March 2013 the Committee made a decision about the Opera Holland Park (OHP) canopy and other temporary constructions for this year:

• Performances (opera or other, such as film) may not start prior to 31 May or continue after 31 August.
• Erection of the canopy etc. may not start prior to 13 March. The canopy and all materials must be off site and the site cleaned up by 30 September at the latest.
• OHP does have the right to bring materials onto the site prior to the agreed start of construction date; this has always been the case.

Nicholas Hopkins gave a masterly representation on behalf of The Friends. Michael Volpe, OHP's General Manager, presented his case as the applicant. Planning Committee members asked probing questions about logistical aspects of constructing and deconstructing the canopy and also asked if FHP would have generated such a large number of objections (198) had there not been a previous application for a year-round canopy.
The Planning Committee chairman summed up that the application for a full-year canopy had been harmful to OHP. He counselled all parties to develop a dialogue so that the need for mass objections to be dealt with through the planning process is averted in future.

The decision is now made; it is final for this year and we should accept it with dignity. We should feel gratified that the original application for 12 months has been reduced to 6½ months for the 2013 season. We ask that members accept this decision as final for this year and that there is no further case to make in relation to dates for the 2013 OHP season.
We have been concerned to learn that contractors and park staff were verbally abused and that anti-canopy notices were fly posted on Park notice boards. FHP does not condone this sort of behaviour and hopes our members were not implicated. It is not the way we need or wish to conduct ourselves.
Thank you to everyone who campaigned for a reduction in the time OHP occupies the very special Holland House site.
[13 March]
Chairman of The Friends
We are sorry to report that our Chairman, Stewart Katz, has had to relinquish the role of Chairman of The Friends due to increased workload from his own business. This has been entirely unforeseen, although he has always been clear that his clients must come first and feels he must now focus on this unanticipated additional client work.

We thank Stewart for taking on the role of Chairman with all good intention and both parties are sad that it has not worked out.

[February 2103]
Subscription Reminder
The annual subscription to the Friends of Holland Park runs from 1 January to 31 December except that new members joining after 1 September in any year are deemed to have paid for the next year. Most members sensibly paid by standing order on 1 January so they do not have to remember, and a good number of others have already paid by cheque. Our sincere thanks to all these. However, if, and only if, we have not yet received your payment,please make it now to save us having to remind you individually. If anyone has not set up a standing order and would like to do so, you will find a form here.

Minimum subscriptions for individuals are standard £12 or £9 for the over 65s. Two members, living at the same address, may take out a joint membership for £20, or £15 when both are seniors. Please make your cheques payable to 'The Friends of Holland Park' and post to Rhoddy Wood, 21 Kenton Court, 356 Kensington High Street, W14 8NN. Thank you.


[Spring 2013]
Bequest to The Friends of Holland Park
We have received a legacy of £25,000 from the estate of Anthony James Longworth. This is the largest gift we have ever received and we wish we had known about it in time to thank the donor.


[Spring 2013]
Holland House lives – but still needs your help!
We are delighted to tell you that in the face of considerable opposition and almost 300 letters of objection, Opera Holland Park (OHP) withdrew the planning application which would have allowed them to leave their enormous canopy in situ all the year round.

However, OHP has put in a new application which is still damaging, this time for the canopy to be in place for eight months, 1 March to 31 October.  The Friends of Holland Park Committee feel this is indulgent and excessive for an opera season that lasts just two months.  We are not against the opera or the canopy in itself, but we urge you to take action to limit the period to a reasonable five months from mid April to mid September.

For further information on The Friends' reasons for objecting to this application click here.

The planning application is open to public consultation until 22 February. If you feel as we do that, even if you are an opera lover, the time that the Park and access to the House is affected by OHP is simply too long, then please write to Planning and Borough Development, Town Hall, Hornton Street, W8 7NX quoting reference PP/13/00374.

Thank you all very much for your help and support.
[February 2013]
Defend our Park - a call to arms!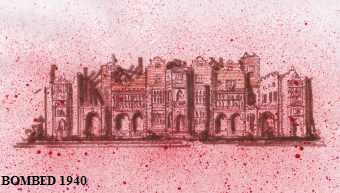 Opera Holland Park has applied for planning permission to leave their huge canopy in place all the year round. Until now they have had restricted consent to erect the canopy between 31st March and 31st October 'to ensure sufficient periods for this heritage asset to be enjoyed without the interruption from the theatre...and in recognition of the open character of the Park and the setting of the Listed Building'.
The Friends of Holland Park's committee is appalled that after all their work over 13 years to have the House properly conserved and the public given access to the terrace in front of it, this focal point of Holland Park might now be permanently shrouded and screened by this enormous canopy. During the winter period access to the tranquil, terraced area is much appreciated and enjoyed by residents and visitors alike. It is very right and proper that this Grade 1 Listed Building with all its historical connections and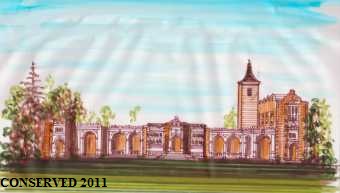 importance should continue to be accessible and fully visible. This is the only time in the year when the House can be fully seen without all the trappings of the opera.
A single-page flyer has been produced explaining why the proposal is so deeply flawed and why it should not be given planning approval. Click here to see it. If you agree, please write or email the RBKC Planning Department with your objection and help to promote this campaign by forwarding the flyer to your friends and neighbours, asking them to voice their objections. Public consultation on the planning application, reference number PP/12/04854, ends on 11th January so please do it today!

Ironically, we had been about to ask for a reduction in the overall time the canopy is in place. It is quite unnecessary
for it to be there for seven months a year when operatic performances only take place within a two-month period in the summer!
Please act now if you wish to protect your park - and we must always remember it is just that - a precious public park, not a permanent auditorium for two months of opera. Much as we may enjoy the occasional visit to the opera, local residents, regular park users and visitors should always come first.

[December 2012]
The Pleasure Grounds of Holland House
Our second new book this year has just been published. The Pleasure Grounds of Holland House commissioned by The Friends and researched and written by Sally Miller as a companion to The Families of Holland House published earlier this year is now available. Full details may be found under Merchandise.

[Autumn 2012]
Diamond Jubilee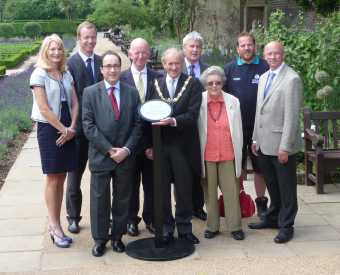 Not all readers might have been aware that Holland Park was first opened to the public in 1952, the year of the Queen's accession. It therefore followed that 2012 was the Diamond Jubilee for both the Queen and the Park, and the two events were celebrated jointly with a party given by the Borough on 29 June. The path between the Mediterranean bed and the rest of the formal garden was christened the Diamond Jubilee Walk. Among those present were Cllrs Lyn Carpenter, Nick Paget-Brown, Sir Merrick Cockell and Christopher Buckmaster (Mayor); Senior Contract Manager of Quadron Ben Binnell, MD of Quadron Clive Ivil, Head Gardener Ian Fleming, Park Manager Barrie Maclaurin and Rhoddy Wood. Also there was a ceremony in which each member of the Parks Police was presented with the Queen's Diamond Jubilee Medal. This has been an exceptionally busy season for the police with the visit by the Emperor of Japan, the Jubilee, the Olympic Torch Relay, and 24-hour coverage during the Olympics to prevent unlawful campers. Leave had to be cancelled and extra shifts worked. It was good to be able to applaud the police for their continuing energy and diligence in keeping Holland Park and the other parks of Kensington and Chelsea secure and happy places to relax.

[Autumn 2012]
Bird-Ringing Demonstration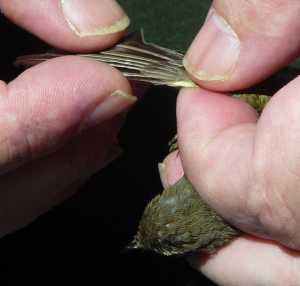 Bird-ringing specialists netted a treat when they visited Holland Park in May: a reed warbler, previously unknown in the park. Bill Haines, with two volunteers from the Aylesbury Vale Barn Owl Project, erected three mist nets in the wildlife area so that they could demonstrate bird ringing. The latter provides data on survival and movement of birds, and this enables conservationists to tackle problems. Mist nets are often used for bird ringing because they are so fine that they are invisible to birds and catch them without harming them. Our specialists gently removed birds from the nets, identified the species, measured and weighed each bird, then recorded the information before carefully attaching a leg ring with a unique number. Some birds caught on the day already had rings, making it possible to trace from records where and when they had previously been netted.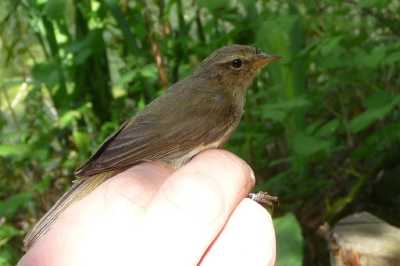 People who dropped in to watch the ringing, which was sponsored by The Friends of Holland Park, had the chance of seeing a chiffchaff, male and female blackcaps, a robin, two blackbirds (who were squabbling hard when the net caught them), one very cross jay and a number of other birds not witnessed by me. But the reed warbler was the real prize.
Jennie Kettlewell (text and photos)

[Autumn 2012]