Report on the Friends of Holland Park Art Exhibition 2017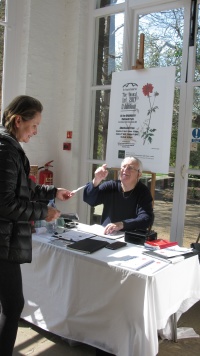 What a great exhibition we had this year: lots of RED DOTS!
This was our most successful exhibition. The weather was wonderful and attendances were up. The standard, as usual, was very high, and pricing was spot on. The most important aspect of the exhibition was the spread of sales across so many artists, some who have never sold before, and all were delighted. This is exactly what this exhibition is about.
The Orangery is always a magnificent venue, this year with 75 artists, I thought it looked fantastic, with a little more space than in some previous years. The exhibition is a team effort with special thanks going to Alison Beckett for the overall hanging; Alison was assisted by Graham Franklin, Nigel Brockman, Alex French and Neil Gidman. Isabel Langtry, Principal of Hampstead School of Art, judged the exhibition, and we are indebted to her for her time and expertise; and to Rhoddy Wood for organising the Mini-Market, Joy Puritz for co-ordinating our catalogue, Sandra French, everyone who volunteered to steward, and the FHP trustees.
Our thanks to our sponsor Romulo Café. This is the second year Rowena and Chris have supported us, and we are extremely grateful.
Lastly I would like to thank the artists. This is your exhibition and I want to congratulate you all. See you next year!
Gordon French
The Judging Experience
It was a pleasure to judge 'The Friends of Holland Park Art Exhibition 2017'. We are so lucky to have such a wonderful park on our doorstep; walking through the park reminds me that it should never be taken for granted. The exhibition was beautifully displayed; I appreciate the great care, attention and energy that putting together such an exhibition demands from its coordinators. Thank you.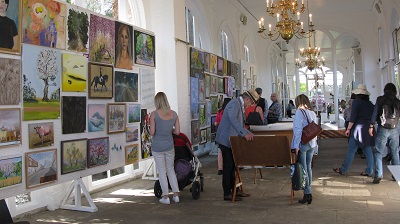 A range of exciting media and materials were on display, giving me the opportunity to enjoy looking at a rich, varied, mixture of artworks including prints, photographs, painting, ceramics, glass, drawings, 3-D works and decorative jewellery.
Malgorzata Lapsa-Malawska was awarded the Prize for Artistic Excellence for her painting If a Tree Falls in a Forest, oil on linen canvas, showing great painting skill and a poetic use of narrative. I am delighted that the Sir Hugh Casson Drawing Prize was awarded to Jennifer Blackburn for her beautiful drawing with paint, an artwork called Beyond the Sky using acrylic and ink. The 3-D Prize was awarded to Angela Wilkes for Bull, modelled in stoneware and beautifully glazed to create a spirited beast reminiscent of the romantic Spanish natural style; and I was delighted to offer the Hampstead School of Art Prize in Applied Arts to Anne Musso for her delicate capture of plants in porcelain: her artwork Lamp, a vertical meadow.
Highly commended were Kye Sook Park for her work in the browser which offered a beautiful range of life drawings in the expressive minimal-line style alongside excellent prints; and Judith Gordon particularly for her painting The Dark Hedges, a lovely use of dense and atmospheric watercolour; Mary Romer Greenfield for her painting Rainbow Steps, a composition with a secret narrative of striking colours, skilfully optimistic; Ihor Ropyanyk for the masterly use of oils with palette knife in Wildflowers; Salina Thomas for A Slice of Galicia, its Atlantic waves pulsating with life; Nadhira Benaissa for the photograph of Holland Park Ice House: it is so good to see this local landmark so beautifully captured. Also commended were Russell Mack whose skilful ceramic works are so alluring; Hazel Leach, showing both paintings and ceramics; Alex Longmore showing us how flowers and ceramics work so well together; Susanne Bagner with her beautifully crafted and controlled slumped glass; and Rosamund Lyons, also sharing beautifully coloured glass with us.
A special mention at the awards evening was made for all the artists who exhibited; I congratulate you all for submitting work, it is a brave and generous to contribute to an excellent exhibition and support an event that makes such a valuable contribution to our London community. I noted with pleasure the presence of diverse drawing which delights me: the root of all our inspiration. Please continue your practice with vigour; I look forward to seeing your new work alongside new submitters in the exhibition next year.
A very special thanks to those of you who buy the artworks, your patronage makes these events possible and gives the event a special buzz, as well as making an important contribution to the excellent work of The Friends of Holland Park.
Isabel H.Langtry
Art Judge and
Principal of Hampstead School of Art
www.art-school-hampstead.co.uk
(Photos by Joy Puritz)

[Summer 2017]